Sir George Martin and the Beatles had a Backbeat, Ken Womack has the Backstory
By Katharine Eaton
Iconic, innovative and hugely influential to this day, the Beatles remain one of the—if not the—greatest music groups of all time.
Ken Womack says that the story behind the Fab Four's famous songs might hold as much inspiration as the music itself. An internationally-renowned Beatles critic and historian, he has published four books devoted to the group's artistry.
Ken first became familiar with the Beatles in the late 1970s, several years after they disbanded. He explained his continued interest in the group as an evolving art object.
"As they continue to grow their audience and gain new listeners, it's inevitable that they evolve across generations," he said.
That concept of evolution also exists within the timeframe of the band's relatively short existence. In less than a decade, John Lennon, Paul McCartney, George Harrison and Ringo Starr went from being a simple beat band to the legendary group that made The White Album.
The Beatles' artistic transformation can be attributed—at least in part—to the influence of George Martin, who worked with the Beatles as a producer, arranger, composer, conductor, audio engineer and musician. His impact on the band was so profound that he is often referred to as the fifth Beatle. "George Martin has an essential role in the Beatles' story," Ken said. "Without him, they wouldn't exist as we know them."
George Martin was the one who created the myth of how the Beatles were discovered. "This story of four musical geniuses that were discovered and then the world came to them."
In reality, the Beatles and Martin chased a specific sound. "The way they constructed their work was very self-conscious and deliberate," Ken clarified. "They had to put in many difficult, long hours and hard work to evolve their music over those seven years."
Ken's biography about George Martin, entitled Maximum Volume: The Life of Beatles Producer George Martin (The Early Years, 1926-1966), will be published in September 2017. In 1996, Queen Elizabeth II knighted Martin for his contributions to British music. Sir George Martin died in 2016.
Ironically, George Martin did not like the Beatles' music at all when he first heard them. His company ordered him to work with the band. "Once he did see their potential, it was the making of them… and the making of him."
Ken, who is dean of the Wayne D. McMurray School of Humanities and Social Sciences at Monmouth University, will speak at the upcoming TEDxNavesink IDENTITY conference on May 20 at the Paramount Theatre in Asbury Park. In his talk, Finding Your Life's Work with Sir George Martin and the Beatles, he will share insights about the purpose these five artistic collaborators found and how their story might be relevant to our own lives.
As the audience discovers new ways of thinking about the band, Ken aims for them to also learn something new about themselves as well.
"I hope that my talk will not only make the audience think about the Beatles' story differently, but also think about their own story, their life's purpose, and how they can spot certain signs along the way."
Take a trip down memory lane–or Abbey Road–and be there in-person when Ken gives his talk. Get your tickets for TEDxNavesink IDENTITY today.
Don't Miss A Beat - Get our Newsletter!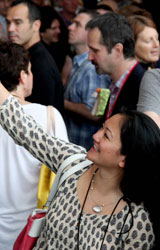 Learn about new TEDxNavesink Events
Discover local change-makers
Get fresh content from our blog
Enter your Name and Email to Subscribe!