A Q&A with Audible Founder and TEDxNav Speaker Don Katz
TEDxNavesink's Tom Adams spoke with upcoming speaker Don Katz, founder and CEO of Audible, Inc., the world's largest seller and producer of downloadable audiobooks and other spoken-word content. The company commercialized the first portable digital audio player in 1997, and it is the exclusive supplier of audiobooks to Apple's iTunes store worldwide and operates 12 global outlets. Acquired by Amazon.com in 2008, it is now an Amazon.com, Inc. subsidiary.
Read full story at njtechweekly.com
Don't Miss A Beat - Get our Newsletter!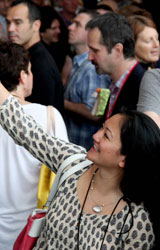 Learn about new TEDxNavesink Events
Discover local change-makers
Get fresh content from our blog
Enter your Name and Email to Subscribe!