Dennis Daniels
Dennis Daniels
Dennis Daniels shared an interactive experience with the TEDx audience, leading them in a Drum Jam to teach the Core Values of his school with a "Musical Play Experience". Mr. Daniels is the former Director of the Count Basie Learning Center (currently the Boys and Girls Club) in Red Bank and is currently the Dean of Students at Hope Academy Charter School in Asbury Park, NJ. Mr. D, as he is known by his students at Hope Academy, is also a self taught Djembe Drummer as well as a Professional Ventriloquist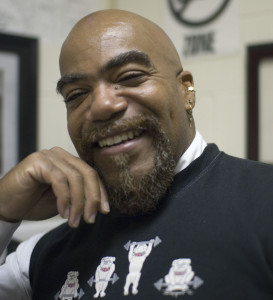 About Dennis Daniels
Mr. Daniels is a native of Red Bank NJ, having attended its public school system and graduating Red Bank Regional HS in the class of 1978. He was recognized as a RBRHS Distinguished Alumni in 2009.
Mr. Daniels has a BA in Psychology from Montclair State and a Masters in Educational Leadership, Management and Policy from Seton Hall University.
Mr. Daniels is the former Director of the Count Basie Learning Center (currently the Boys and Girls Club) in Red Bank and is currently the Dean of Students at Hope Academy Charter School in Asbury Park, NJ.
Mr. D, as he is known by his students at Hope Academy, is also a self taught Djembe Drummer as well as a Professional Ventriloquist. Mr. D puts both unique talents to use as he teaches character education and maintains discipline for the students of Hope.