Don't Miss A Beat - Get our Newsletter!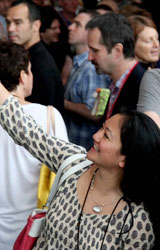 Learn about new TEDxNavesink Events
Discover local change-makers
Get fresh content from our blog
Enter your Name and Email to Subscribe!
We are proud to present TEDxNavesink Accelerators. The event will take place on Saturday April 11, at Monmouth University, West Long Branch, New Jersey.
We'll explore how Accelerators are creating game-changing innovation and cutting edge thought. Accelerators are: catalysts. Change makers. Inflection points. Pivotal moments.
We are always sold out - so don't put off getting your tickets today!
Note, for orders of 5 tickets or more, please select the group ticket tab below.
There will be serving of alcohol at this event, under ABC Permit #15007265.