Excerpt from TriCityNews, 05.15.2014
The annual TEDxNavesink event is a coming-together of what triCity is all about: a progressive, forward-thinking mindset in the eastern side of Monmouth County. What TEDxNavesink co-founder Brian Smiga called 'the country shore.'
"We call it that because we can't bring ourselves to say 'suburbs,'" said Smiga, rejecting that conformity [or the image of it] right out.
Definitely this paper's kind of guy.
TEDxNavesink is part of the TEDx family of conferences. An offshoot of TED Talks, these are independently run and locally focused events. TEDxNavesink first hit this area in September of last year, where it sold out the Brookdale Community College Performing Arts Center. Last weekend's TEDx at Red Bank's Two River Theater sold out six weeks in advance.
Click here to view/download the full story from TriCityNews.
Don't Miss A Beat - Get our Newsletter!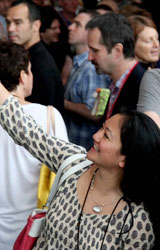 Learn about new TEDxNavesink Events
Discover local change-makers
Get fresh content from our blog
Enter your Name and Email to Subscribe!