First Ever TEDx Event on NJ Shore Debuts
FOR IMMEDIATE RELEASE
For more information contact:
Claudia Lucey (732) 895-1441
[email protected]
Brian Smiga (917) 270 1552
[email protected]
First Ever TEDx event on NJ shore debuts talks by great thinkers
TEDxNavesink:The Next Wave offers to spotlight local students
June 4, 2013 Lincroft, NJ – The TED conference has become the world's leading forum to spread new ideas, and for the first time, it's coming to Monmouth County on Friday, September 20, 2013, when TEDxNavesink:The Next Wave will be held at the Brookdale Community College Performing Arts Center, Lincroft, NJ.
TEDxNavesink:The Next Wave is the first TEDx event on the New Jersey shore. 360 people will attend the all-day, non-profit program, which will run from 8 am until 5 pm, followed by a light reception.  Tickets go on sale July 1st and can be reserved at stage.tedxnavesink.com.
For area students, TEDxNavesink:The Next Wave provides an open invitation to showcase their best ideas and visions for the shore's future. Students can apply as individuals or as teams for a speaking spot, or to showcase their work in a poster session at the conference. Students can also apply to volunteer or attend the event. Students and teachers can learn how to propose talks, and can apply for discount group tickets, by emailing [email protected].
"At TEDxNavesink:The Next Wave we are persuading the brightest minds to give the talk of their lives on how we will reinvent and reshape the shore," said Brian Smiga, TEDxNavesink curator and a past sponsor of TED 2003 and 2004. "Also, a core goal of this first-ever TEDx event in Monmouth County is to engage our brightest students to propose talks and poster sessions, to learn by volunteering, or to attend as a team. The response has been terrific."
Originally planned for Sandy Hook, TEDxNavesink was fortunate to find a home at Brookdale Community College Performing Arts Center after Hurricane Sandy.
First-ever talks will be delivered by world-leading experts on "Redrawing our Oceans", "Re-picturing Paradise", "Re-mapping the Self", and "Starting a Business via Crowd-funding". Speakers will be announced as they are confirmed, and tickets will go on sale on July 1st.
"After Sandy, our shore community has rallied into action," said Cindy Zipf, Executive Director of Clean Ocean Action and a TEDx speaker.  "People's hearts and minds are focused on how will we protect our beautiful shore habitat for future generations.  It has been proven time and time again that we, the people, make the difference," she added.
To volunteer, nominate a speaker, or to ask questions, please email [email protected] or visit stage.tedxnavesink.com.
The TedxNavesink:The Next Wave organizers are: Brian Smiga, Atlantic Highlands; Pam Marvin, Highlands; Claudia Lucey, Rumson; and Andrew Struse, Navesink who lead a team of more than 20 volunteers.
TEDx was created in the spirit of TED's mission, "ideas worth spreading." The program is designed to give communities the opportunity to stimulate dialogue and form new friendships. At TEDx events, a combination of live presenters and simulcasts from around the globe will spark deep conversation and connections.
About TED
TED is a nonprofit organization devoted to Ideas Worth Spreading. Started as a four-day conference in California twenty-five years ago, TED has grown to support those world-changing ideas with multiple initiatives. The annual TED Conference invites the world's leading thinkers and doers to speak for up to eighteen minutes. Their talks are then made available, free, at www.TED.com. TED speakers have included Bill Gates, Al Gore, Jane Goodall, Sir Richard Branson, Indian entrepreneur Nandan Nilekani, French designer Philippe Starck, Nigerian economist Ngozi Okonjo-Iweala, Chilean writer Isabel Allende and former UK Prime Minister Gordon Brown. The annual TED Conference takes place each spring in Long Beach, California, along with the TEDActive simulcast in Palm Springs; the annual TEDGlobal conference is held each summer in Edinburgh, Scotland.
TED's media initiatives include TED.com, where new TEDTalks are posted daily, the recently launched TED-Ed platform for students and educators, the Open Translation Project, which provides subtitles and interactive transcripts as well as the ability for any TEDTalk to be translated by volunteers worldwide, and TEDBooks, short e-books by speakers that elaborate on a single idea originally presented on TED's stage. TED has established the annual TED Prize, where exceptional individuals with a wish to change the world are given the opportunity to put their wishes into action; TEDx, which offers individuals or groups a way to host local, self-organized events around the world, and the TED Fellows program, helping world-changing innovators from around the globe to become part of the TED community and, with its help, amplify the impact of their remarkable projects and activities. Follow TED on Twitter or on Facebook.
Don't Miss A Beat - Get our Newsletter!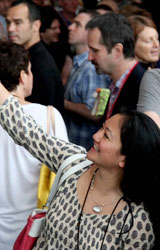 Learn about new TEDxNavesink Events
Discover local change-makers
Get fresh content from our blog
Enter your Name and Email to Subscribe!