A pioneer in suburban agriculture
On a winding street tucked away in the woods is a quaint little farm. Here one can skirt past a coop of chickens and goats and end up under an apple tree for an afternoon nap. No, this is not western New York or rural Vermont, although at first glance you might think you were re-experiencing colonial America. This is the Homestead at Seven Arrows, a self-described "mini-farm" that sits comfortably on the Navesink River in Locust, NJ.
My visit to the Homestead was enchanting. As a life-long resident of Monmouth County, I had never experienced a place like this. Sure, I had been to farms before – the large-scale kind of farms where heavy machinery reigned supreme. Or farms with rows upon rows of corn and lettuce, perfectly placed as if a freshly minted civil engineer took a stencil to the soil. But this one was different.
On a hot and sultry day, I met with Megan Paska, co-owner and founder of the farm, who treated me with a mason jar of iced water which only added to the place's unique vibe. Prior to moving here, Paska along with Michael Meier, lived and worked in Brooklyn. Paska never imagined operating a farm in New Jersey, let alone suburban New Jersey. Yet having seen the place – an expansive property with lush green grass, fertile soil and 100 year old tulip trees (perfect for her bee colony) – she almost immediately changed her tune.
Paska says she hesitates to call this area "the suburbs." And she's probably right. Less than an hour away from New York City (especially if you travel by ferry), the area is flush with daily commuters to midtown and lower Manhattan. At the same time, the Brooklyn transplant recognizes that the suburbs offer an ideal location for situating a farm like hers. "We feel like the suburbs could serve as the best place for growing food, you've got more space and you've got your market right there" she says.
An important part of the Homestead at Seven Arrows is a community-supported agriculture program, or CSA. The Homestead's CSA currently supports thirty-five shares. People pick up vegetables from the garden on a weekly basis. The CSA offers an opportunity for nearby residents to buy produce that is fresh and locally grown.
Despite the area's rich agricultural heritage (Native Americans are known to have especially prized the area for its fertile soil), in the last half-century many farms have gone the way of the bulldozer. Being so close to the city, eastern Monmouth County is prime real estate and many farmers seized the opportunity to cash out when developers came knocking. "We're kind of astounded that so few people farm in the suburbs" Paska tells me. 
Megan Paska sees the area has ripe with potential for a new form of suburban agriculture tended by an emerging class of young entrepreneurs. While she recognizes the challenges of locating an appropriate space and just as importantly a willing landowner, Paska hopes that more locals will follow their lead. "Things like this might inspire some people to surrender a little bit of their land to some young, beginning farmer to work their magic on" she says with the slightest bit of humor.
Moving to suburban New Jersey has allowed Paska and her co-workers to explore opportunities previously unavailable to them. "Urban agriculture has so many limitations," Paska says. While she is quick to note that she is not a critic of urban agriculture, the former Brooklynite especially likes the idea of having the space for her own dairy goats, ducks and hay for her rabbits.
"Even just time" is a constraint in urban New York she adds. The process of growing hay is a good example: cutting, drying, and preparing it for delivery is a time-consuming activity, especially when you've got bills to pay as Paska notes. Making room for that time is difficult if not impossible to manage in a place like Brooklyn. Enter New Jersey where (almost) everything can be tended to from one centralized location.
The farm offers several opportunities for locals to get involved. Not only does the Homestead offer a CSA, but they also provide "Bootcamps" where people can learn the basics of agriculture in an intensive all-day training camp under the tutelage of seasoned farmers like herself. "I love teaching, that's one of my favorite things," says Paska. She glows with excitement about educating a future class of suburban farmers.
The Garden State "is probably not living up to its potential" Paska believes. "I would love to see more young people [getting involved]" Paska adds. Eventually what you'll have is a "a great farm community — and soon after that a really interesting, thriving food culture will follow."
Don't Miss A Beat - Get our Newsletter!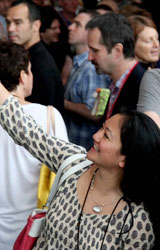 Learn about new TEDxNavesink Events
Discover local change-makers
Get fresh content from our blog
Enter your Name and Email to Subscribe!