Roddy Wildeman lights up the shore
In the immediate aftermath of superstorm Sandy, the wreckage was almost indescribable. Most people living in Monmouth and Ocean counties were left in the dark, and thus without a television. Yet across the country images streamed in detailing the destructive toll of Sandy's path. In Sea Bright, mounds of sand were piled so high that the area strangely resembled the dunes of the Outer Banks in North Carolina. Towns along the shore were turned upside down with twisted boardwalks and parking lots full of sand which made it hard to distinguish just where the beach began.
Some homes were completely destroyed leaving those unfortunate homeless while others endured for days in the cold without heat or electricity. And the garbage. Everywhere you looked. No matter if you lived near the Atlantic, the Shrewsbury or Navesink rivers, or those rivers' assorted creeks, streams and estuaries, you were sure to find something which had travelled far from its origin — children's toys, shopping bags, a soggy old magazine or a lonely deck chair. The collective debris was a stark reminder of the storm's ferocity.
Sandy was a kick in the gut. For at least a generation, New Jersey never thought of herself as standing in the way of hurricane alley. Large, destructive tropical storms were reserved to places like Florida's east coast or the precarious port-city of New Orleans. Perhaps this is why so many people, myself included, expressed surprise and disbelief the day after. It wasn't just nature that suffered a blow — trees were knocked down, greenery uprooted — but also the built environment as I knew it. An entire harbor full of boats was emptied, the bridge I was sure would lead me to the beach was inaccessible, as if I was suddenly turned away and unwelcomed in my own backyard.
Strong communities embody resilience. Jersey Strong. The neon-green writing on a flush of black stuck out like a sore thumb. And then suddenly it made sense to me. The sticker that I once identified with gym-rats and "meat-heads" was suddenly re-imagined as my state's rallying call. We would endure, this simple but strangely prophetic decal suggested . We would recover and we would adapt our way of life despite the best of Mother Nature's arsenal.
A natural disaster like superstorm Sandy can trigger several emotions. One can wax nostalgic and settle for an over-glorified past when "things were better in the good ol' days". Or you can press on, embrace uncertainty with an open mind and open heart. Out of darkness comes light. No where is this better expressed than in Roddy Wildeman's art.
Wildeman, who owns an art studio in Belmar, serves as a leading example of the Jersey shore's enduring spirit. Following the storm, Wildeman set about collecting debris from Sandy. Broken boardwalk planks and warped timber became Roddy's toolkit. For Wildeman, hiding behind Sandy's ugliness was a sort of treasure chest. The wooden planks, many of them identifiable by their place of origin — "Belmar", "Long Branch", "Asbury Park" — are re-purposed as works of art.
Roddy first collects the wood, cleans it, and reshapes it. After that is where the magic begins. What were once discarded splinters of dead trees serve as threads for Roddy's imagination. The result: spectacular starbusts of contrasting timber. Roddy's work has an energetic quality to it. In a way, his art breathes new life into the old. The wood does not cling to its past but instead leaps forth as if it were the rising of a second sun. A sort of rebirth for the Jersey shore.
Don't Miss A Beat - Get our Newsletter!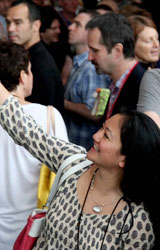 Learn about new TEDxNavesink Events
Discover local change-makers
Get fresh content from our blog
Enter your Name and Email to Subscribe!