TEDxNavesink Brings World-Leading TEDtalks to Monmouth County
PRLog (Press Release) - Aug. 5, 2013 - HOLMDEL, N.J. - On Friday, September 20, 2013, TEDxNavesink: The Next Wave will be held from 8 a.m. to 5 p.m at Brookdale Community College Performing Arts Center at 765 Newman Springs Road in Lincroft, N.J. The Conference will bring the world-leading TEDtalks mission to Monmouth County for an all-day live event where speakers and attendees discuss the future of the New Jersey Shore's people and landscape.
TED is a nonprofit organization devoted to Ideas Worth Spreading. Started as a conference in California 26 years ago, TED has grown to support those world-changing ideas with many initiatives, including TEDx where local, self-organized events bring people together to share a TED-like experience. At a TEDx event, live speakers and TEDtalks combine to spark deep discussion and connections among the audience.
At TEDxNavesink 360 attendees will experience 24 live talks and 100 minutes of live and pre-recorded TED material from the TEDxCity2.0 conference taking place at Times Center NYC and around the world in major cities . There will also be opportunities to meet the speakers and network with the community at lunch, on breaks, and an evening reception at the Monmouth Museum located on the campus of Brookdale Community College. Reception and beverage local sponsors include KitchenWitch, Rook Coffee, Beachhaus beer, and a dozen others.
"More than the first ever TEDx on the Jersey Shore, TEDxNavesink powers the collective imagination and common drive – not just to rebuild, but to re-strengthen and re-invent shore life," said Alon Hillel-Tuch, Co-Founder and Chief Financial Officer, RocketHub Inc. and Speaker, TedXNavesink. "Authentic story telling and an engaged community are going to make it a thrilling day."
The event's 24 speakers include engaging entrepreneurs and innovators in technology, literature, education, film, horticulture, environmental advocacy, the arts and music and more. Speaker highlights from the day include:
Dr. Ben Horton, author, panel speaker and Professor at the Institute of Marine and Coastal Science at Rutgers University, who aims to understand and integrate the external and internal mechanisms that have determined sea-level changes in the past, and which will shape sea level rise in the future.
Harrison Owen, author, consultant and photographer, has worked on virtually every continent with organizations ranging from small villages to large corporations and NGOs. He will discuss the organizational mythology and culture and how it influences the power of self-organization.
Tereza Nemessanyi leads Microsoft's presence with Startups in the East. She's going to talk about how she, as a suburban mom, used social media to make her way back into the workforce. The result: in a short period of time she became one of New York City's most influential entrepreneurs, leading her to her current position as VP at Microsoft.
Ben Kalina, an internationally acclaimed filmmaker, director and producer, will discuss his new film, currently in theaters, Shored Up, which explores the Army Corps' controversial and ongoing beach replenishment project along the New Jersey Shore.
Don't Miss A Beat - Get our Newsletter!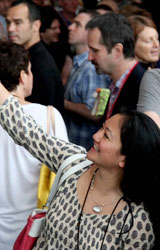 Learn about new TEDxNavesink Events
Discover local change-makers
Get fresh content from our blog
Enter your Name and Email to Subscribe!