TEDxNavesink: I've Got an Idea!
Storytelling and sharing ideas are in our DNA. From cave paintings to Instagram, we are compelled to broadcast our ideas into the ether, to make a record of our stories, to leave a mark with our unique perspectives. It's a compulsion. Our social media sharing (and over sharing) is our own personal painting on our cave, our mark that says: I was here, I thought, I shared.
Maybe that's why TED and TEDx have gotten so deep into our hearts and minds, because, sharing "ideas worth spreading" as big TED says, is fundamental to our existence.  We are social animals and we strive to keep connected by expressing ourselves.
TED events have been around for over two decades, and we all know how successful these talks and video-recordings have become.   For some, a single TED talk has been a life changer.  There was something about a particular topic and speaker that struck a chord.  On the speaker's end, he/she decided to share an idea, thesis or philosophy. Call it what you will, but it is an exchange. The speaker was compelled to share and the audience members were seeking - a match made in heaven!   Idea sharing is not new, but TED and TEDx, the locally organized TED events, have perfected the art for the 21 century.
 Live from Red Bank, it's all day Saturday!
Unless you are one of the lucky few to have been chosen to attend a TED event, all the TED talks you've experienced have been just you in the blue light of your computer. Yes, the talks were powerful for you, but for the live audience, something bigger, deeper was happening.
At a live TEDx event, ticketholders aren't just audience members, they're idea sharers, networking over coffee with other attendees, chatting with a performer at the reception or maybe even sitting with a speaker during a VIP lunch. At a live TED experience, attendees are immersed in the culture of idea sharing all day, making it a day (not just a short talk) well spent.
If you attend TEDxNavesink hosted at Two River Theater, you will be inspired and enlightened. You'll meet others seeking ideas and knowledge.  You'll come up with great ideas of your own.   You will be a changed person. That is what education does, and at its core, TED educates, yet not in an academic or pedantic fashion, but in a compelling way.  Talks are from 5 - 18 minutes in length and never boring!
TEDx was created in the spirit of TED's mission, "ideas worth spreading." The program is designed to give communities, organizations and individuals the opportunity to stimulate dialogue through TED-like experiences at the local level. TEDx events are fully planned and coordinated independently, on a community-by-community basis.
The first TEDxNavesink all-day event at Brookdale Community College in September 2013 was a sold out event. Over 300 attendees and 24 speakers shared ideas about our coastal community. Talks ranged from sea level rising to organic farming on former estates to hypothesizing about the area's future as a technical hub to rival Silicon Valley. You can watch all of last year's talks here. Please share your favorite TEDxNavesink talk with someone.  You never know what effect it will have!
We surveyed last year's TEDxNavesink audience and they told us they were stoked about the event, but that they also wanted more. More chances to network, reserved seats, an included lunch and a post-event reception where presenters and attendees could meet.
You asked. We listened.
This year's TEDxNavesink moves to Saturday, May 10 at Red Bank's cultural mecca, Two River Theater, with more opportunities to network and meet presenters, reserved seats and of course, a catered lunch.  Yes, we had to raise the ticket price a bit, but we feel that all these upgrades substantiate spending a bit more on a full day of live non-fiction theater.  We hope you agree.
This year's topic is "At Play."  The day will feature two dozen live talks and entertainment pieces on the surprising ways in which play is a positive force in our lives. Being at play is a most resourceful state. It facilitates greater openness, tolerance, creativity, generosity, and curiosity.   And as a result, it impacts business, education, innovation, public space, community, real estate values and culture - our complete environment.
Play is pleasurable too.  The word itself manifests good feelings. Who doesn't miss all the fun they had at play during childhood?  What adult doesn't steal away from serious business once in a while to play like a kid again? We have so much to explore on May 10 and we promise you a great day of play and idea sharing in a beautiful venue in an exciting town.
Join us and tell your friends too.  Share a video; share an idea.
Photo credit: Nan Palmero
Don't Miss A Beat - Get our Newsletter!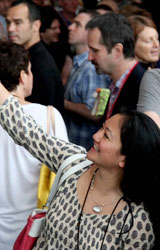 Learn about new TEDxNavesink Events
Discover local change-makers
Get fresh content from our blog
Enter your Name and Email to Subscribe!