Play and the Power of Time Off
A dear friend of mine shared a link to this talk a few weeks ago: Stefan Sagmeister, The Power of Time Off. She was fresh off what we will call a "break-up" with the hard-core and cutthroat beauty industry. This was someone who had worked for me years ago, and when we worked together, work was fun. In the 7 years since we parted professionally, I watched her grow in her career. She had some really great opportunities; you may even describe her career as a "dream job". (If you define dream job by having one of those mythical "closets" with access to every beauty product imaginable and workdays defined by "competitive shopping" trips in the highest ends malls in America, not to mention all of the free manicures.) Still, the higher up she climbed, the more miserable she became. So she broke up with her dream job and posted this Ted talk.
The timing couldn't have been better. As I mentioned it had been 7 years since she seemed to have had any fun at work.  I was inspired for her and through her, and as I watched this TED talk, the idea of taking time off began to sink in.
I won't deny that at first I was skeptical. My friend is single, and while it doesn't make her any less important, it does mean that she doesn't have to worry about a steady income to pay a mortgage, feed tiny mouths or create a consistency that we know is the key to happiness in any household with children. How practical is it for the rest of us to close up shop for a full year so we can play?  What do to with my car payment, my mortgage, my job, my other job, my one, four and five year olds, oh and my husband?
The more I thought about it, I realized that we could all take time off to play in our own way. In fact corporate cultures have been trying to crack the code on this for years.  During my time in Corporate Communications I spent many hours trying to define our corporate values and build surveys that would measure how our engaged employees were.  People always said, "Fun! We have to make sure we have fun in our values. We want our employees to have fun!" But when we proposed ideas to actually make the workplace fun, we never got any traction. Maybe that is because things like "fun" and "play" are very personal. What is fun for me (travel, shopping, roaming the aisles at Whole Foods) might be torture for others.
Still there are companies who seem to be getting it right. Google has made a name for itself not only as one of the most innovative companies, but also as a one of the best places to work.  The Google corporate campus has been described as an "adult playground" and you may have heard references to foos ball and ping-pong tables, and video game stations scattered about.
So we can't all take a year sabbatical every seven years, and we can't all work for Google, so how do the rest of us mere humans incorporate time off and the benefit of play into our daily lives? In this talk Stephen talks about two important components to ensuring his time off is successful. Number one, he plans it. That may sound oxymoronic, "Who plans to play?" We all must if we want to actually achieve it.  Number two he tells others about it.  Time off would never happen for me if I didn't communicate with a near army of support people. This not only enables me to take the time off, but ensures I see it through.  For me time off to play isn't about a year sabbatical. Maybe one day it will be. For now I am happy with my time off being centered around spending time with women who inspire me, travel to places I have never been, even just walks along the ocean where I can find that quiet space in my brain that ideas go to hide when the noise of everyday life scares them away.
I think about my friend so early in her time off. She has already identified the need for structure in her life and has already begun to see the benefits of the freedom she has gifted herself.  I see it in the beautiful photographs she has begun to take. I see it in the lightness in her being and the hopeful smile on her face.  That alone is enough to inspire me to find the time to play.
Don't Miss A Beat - Get our Newsletter!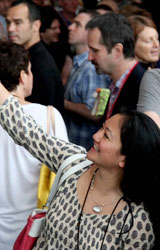 Learn about new TEDxNavesink Events
Discover local change-makers
Get fresh content from our blog
Enter your Name and Email to Subscribe!