TEDxNavesink Launches Second Life Bikes Crowdfunding Collaboration
The power of innovation. The joy of discovery. The gasp of enlightenment.
TEDxNavesink is about all of these things. But the centerpiece of the event is the spirit of collaboration — and the amazing things that happen when it takes place. And what exemplifies that concept better than former TEDxNavesink speakers working together to impact the community?
That's why TEDxNavesink is supporting Second Life Bikes, a nonprofit based in the core of Asbury Park. Doubling as an earn-a-bike program and community bicycle shop, Second Life Bikes provides an opportunity for underprivileged youth to take life by the handlebars. These youngsters volunteer their time at the shop, learning the ins-and-outs of bicycle mechanics, the value of resourcefulness and the significance of community service. Using their wrenches and their newfound skills, they repair old models and earn a coveted reward: a refurbished bicycle of their own.
The founder and executive director of Second Life Bikes, Kerri Martin, was a speaker at last year's conference, where she shared the nonprofit's mission and its witty selection of chalkboard signs. Now she has teamed up with Alon Hillel-Tuch, founder of the crowdfunding platform RocketHub and a former TEDxNavesink speaker.
Together, they have one mission: to make a permanent home for Second Life Bikes at 21 Main St.
A Second Life on Main Street
After approximately four years of operation in a church garage, Second Life Bikes moved into the Main Street space in 2010. At 8,000 square feet, the warehouse-style building provided the room for Second Life Bikes to blossom. The shop, which funds the youth program, grew over 1100%, allowing the expansion of classes and group rides. Now, more than 250 youth earn their bicycles on an annual basis — and the numbers kept growing. The location introduced the organization's Billboard Bike — parked out front next to a chalkboard sign — to a wide audience, prompting a weekly display of playful greetings.
But the nonprofit's reach extended beyond the Jersey Shore. National media outlets picked up on the burgeoning operation, as CBS Evening News, CBS Sunday Morning, the Today Show, and Time for Kids and Family Circle magazines raced to feature Second Life Bikes.
According to Martin, the prime location contributed strongly to their success.
"The location is highly visible and it's right in the middle of Asbury Park, making it very accessible to the kids we serve," she said.
But when the building went up for sale last year, Martin was looking at a hefty $800,000-plus price tag to acquire the space. She considered using traditional means — grants and low-interest loans — to raise the funds, but a meeting with Hillel-Tuch after the first-ever TEDxNavesink conference changed her mind.
"This is an example of great events leading to great connections," said Hillel-Tuch, whose crowdfunding company allows the public to contribute funds to individual projects. He and Martin decided that a partnership between Second Life Bikes and RocketHub was the answer. 
Check out a video of Second Life Bikes on RocketHub.
Gearing Up for the Goal
The mission is to raise $75,000 by the end of February. It will go toward a $400,000 down payment, and the balance will be a mortgage financed by the owner of the property. To date, the campaign has garnered nearly $22,000 — but it's not just about the money. Depending on the donation amount, supporters can receive Second Life Bikes merchandise, a Billboard Bike shoutout, a plaque to be showcased in the facility, or even a lifetime of complimentary bicycle repairs.
However, these perks shy in comparison to the utmost reward: enhancing the lives of children, one refurbished bicycle at a time.
"Second Life Bikes is a true community initiative," Hillel-Tuch said, "and seeing her story come to life through RocketHub is very exciting."
The story isn't over yet. To help Second Life Bikes get to the next chapter, visit their RocketHub site.
You can watch Kerri Martin's TedxNavesink talk here and Alon Hillel-Tuch's talk here.
For a chance at your own TED collaboration, be a part of TEDxNavesink's 2014 presentations and networking on May 10. Tickets are available here.
Don't Miss A Beat - Get our Newsletter!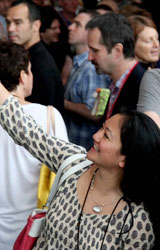 Learn about new TEDxNavesink Events
Discover local change-makers
Get fresh content from our blog
Enter your Name and Email to Subscribe!