Don Lincoln Has Devoted His Life to Sharing His Passion for Science
Don't Miss A Beat - Get our Newsletter!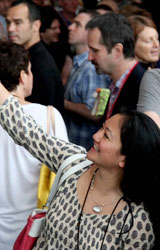 Learn about new TEDxNavesink Events
Discover local change-makers
Get fresh content from our blog
Enter your Name and Email to Subscribe!
Don Lincoln is doing for young people what famous scientists like Carl Sagan, Isaac Asimov and James Burke did for him—passing on his love of science to the masses.
"I believe it to be the duty of any scientist to share their knowledge and enthusiasm with the public," he said. "The universe is a fundamentally fascinating place and mankind knows a great deal about it. That information should be available to all."
His passion is evident in everything he does, from working on understanding the way the universe works to speaking to crowds of willing listeners about physics.
It's this eagerness to share ideas with others that makes Don such a perfect fit with TEDxNavesink. Don will be a contributor to TEDxNavesink 2015 where he can continue his tradition of sharing his ideas and his enthusiasm for science with hundreds of people, as well as more online.
Don has a career anyone could be jealous of. He works as a particle physicist at Fermilab in Illinois with the Large Hadron Collider, the highest energy particle accelerator in the world. He studies mankind's age-old questions about the origins of the universe and the building blocks of matter. But Don's career doesn't stop there. Don has written many books for the public, including The Large Hadron Collider: The Extraordinary Story of the Higgs Boson and Other Stuff That Will Blow Your Mind.
Don has a knack for making the confusing understandable and the complex comprehensible. He uses many different platforms to spread the word about science, more specifically physics. He writes for Scientific American and other magazines. He is a blog contributor for NOVA and Scientific American. Don also makes YouTube videos that work to make science relatable to audiences.
"My research background gives me a deep and rich appreciation of fundamental science and my communication skills let me share it," Don said.
He's very interested in the theme of the TEDxNavesink 2015 conference, 'Accelerators,' saying the wordplay intrigued him. Don's presentation will tell the tale of how particle accelerators work.
"Accelerators are things that drive change and I thought that the juxtaposition of my subject (particle accelerators) accelerating societal and technical change would make for an entertaining presentation," Don explained. "Particle accelerators allow us to begin to answer questions first asked thousands of years ago and give us insights into the deepest questions ever asked. Inquiries once restricted to the province of philosophers are now revealing definitive answers."
Don meshes the science world with the communication world seamlessly. His ability to communicate science in a way that is understandable to audiences of all kinds makes him unique and a force within the science communicator's circle, and he encourages people to explore their passions in new ways.
"If there is an audience, I'll try to exploit it," he said about his love for communicating the complexities of physics. "Spreading ideas is absolutely central to leveraging one's impact on society. Gone are the days in which facts are found only in dusty libraries. Now people have an extraordinary range of facts to which they have access."
During his life-long journey to inspire others with his passion for science, Don has received letters from children who have been inspired to study physics after reading his books.
"It's humbling to know that I have that sort of life-changing impact on some people," Don said.
Join us during the TEDxNavesink 2015 conference and let Don inspire you! Tickets are on sale now for the April 11, 2015 event at Monmouth University. Click here to purchase yours today!
Want to check out more of what Don has to say? Visit his YouTube channel here!
Stephanie Eichmeyer is a content production and marketing intern for the TEDxNavesink team. She is currently pursuing a masters degree in communication from Monmouth University. Stephanie has a bachelor's degree in journalism from the University of Missouri-Columbia and has worked in journalism and PR for many years.
Don't Miss A Beat - Get our Newsletter!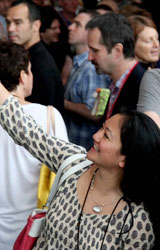 Learn about new TEDxNavesink Events
Discover local change-makers
Get fresh content from our blog
Enter your Name and Email to Subscribe!