Dr. Gary Lewandowski Uses Science to Understand, Analyze Relationships
Don't Miss A Beat - Get our Newsletter!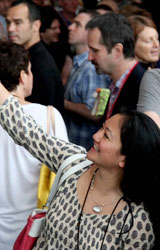 Learn about new TEDxNavesink Events
Discover local change-makers
Get fresh content from our blog
Enter your Name and Email to Subscribe!
For Dr. Gary Lewandowski, life is all about relationships—successful ones, failed ones, deep ones, superficial ones— and how those relationships are created, broken, and maintained. He researches what brings people together, what makes a successful relationship and what leads someone to cheat. Gary studies the science of relationships.
Gary sees relationships as primary sources of happiness in our lives, but also sources of sadness. The problem with relationships is that there is often very little guidance given on what to look for or how to keep those relationships strong.
"With better quality information people can make better decisions and hopefully experience more fulfilling relationships and happier lives," said Gary.
A professor and department chair at Monmouth University in the department of psychology, and director of the Relationship Science Lab, Gary spends his life using data to analyze the way relationships work. This analysis is firmly grounded in science.
"The important things in life deserve data," he said. "I hope that people use the information they learn to improve their relationships."
Gary will be a contributor at the TEDxNavesink 2015 conference held at Monmouth University on April 11 in Pollak Theater. His talk, entitled "Breaking-Up Better: Why Break-Ups Don't Have to Leave You Broken," will help participants learn how to deal with a break-up.
"I hope the audience will learn what science can teach us about dealing with the break-up of a romantic relationship," said Gary. "I hope my talk instills an appreciation for the importance of science-based information for relationships and a desire to learn more about all of the other interesting facets of relationships," said Gary.
But Gary will also bring another unique aspect to his talk on April 11.
"The information I'll share has data to support it, which means I'll stay away from assertions and statements of "fact" based only on opinions, limited personal experiences, or anecdotes," he said.
Gary's work has been featured in such media outlets as The New York Times, CNN, Ladies Home Journal, WebMD and Scientific American Mind. He has written over 30 journal articles and over 15 book chapters. He has received over 12 grants and given more than 90 conference presentations. Gary is also a nationally recognized teacher by The Princeton Review among its "Best 300 Professors" list.
With two colleagues, Gary founded the site www.scienceofrelationships.com with the mission of sharing relationship science with the world. They do this by engaging audiences by writing about published research in an interesting way. Gary has written over 100 articles for the site and those articles have been read by over a half million people, who in turn are sharing the information they learn from the site. This passion of sharing ideas is what makes Gary such a great fit for TedxNavesink.
"I've been a longtime fan of TED Talks and think its is a wonderful format for sharing ideas and learning from others," he said. "I'm also a proponent of any opportunity that helps share science in a format that reaches and helps a broad audience."
The theme of this year's conference is accelerators, or those who influence, innovate and promote change. Gary believes his work as a professor is where he really shines as an accelerator. Teaching, he says, allows him to be constantly innovative in his courses.
"Professors are natural accelerators and catalysts who help students forge their life's path," he said. "College is such an important time period where students learn about who they are, what really matters to them in their life, and discovering the ways that they can make a difference. The fact that I get to play a small part in that is amazing."
Want to learn more about the science behind relationships? Get your ticket for the TEDxNavesink 2015 conference now! Tickets can be purchased here. You can get a sneak peek at Gary's talk by attending the salon at Two Rivers Theater on Thursday, Jan. 29th.
Visit www.scienceofrelationships.com to learn more about how Gary and his colleagues can help you understand your relationships better.
Stephanie Eichmeyer is a content production and marketing intern for the TEDxNavesink team. She is currently pursuing a master's degree in communication from Monmouth University. Stephanie has a bachelor's degree in journalism from the University of Missouri-Columbia and has worked in journalism and PR for many years.
Don't Miss A Beat - Get our Newsletter!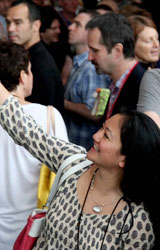 Learn about new TEDxNavesink Events
Discover local change-makers
Get fresh content from our blog
Enter your Name and Email to Subscribe!