Stan Green: Applying Baseball to Academics
Don't Miss A Beat - Get our Newsletter!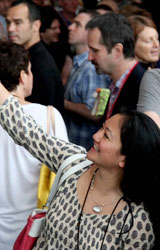 Learn about new TEDxNavesink Events
Discover local change-makers
Get fresh content from our blog
Enter your Name and Email to Subscribe!
To many, a baseball cap is a symbol of America's pastime. For most, baseball is just that—a pastime. But for some, it's much more. For Stan Green, it's a passion that he has been lucky enough to use in his career as an anthropologist.
Stan shared his love for baseball with the audience of TEDxNavesink 2014: Play. His talk, "Play Ball: The Anthropology of Baseball," not only showed his love for the game, but it highlighted how baseball reflects America's culture and history.
Stan's passion for baseball started as a child. His father, a first generation American, played stickball in the streets of the lower east side of Manhattan. But Stan didn't begin speaking and writing about the culture of baseball until much later on in his career. Prompted by his wife's suggestion to combine his knowledge for baseball with his perspective as an anthropologist, he submitted a paper proposal to a conference about baseball and American culture. The conference was one of Stan's first experiences with thinking about baseball on an academic level.
Stan had the opportunity to meet women who played ball for the All American Girls Professional Baseball League during World War II. For Stan, this was "one of the best moments" and he met many people who were doing research on baseball. "The conference opened up a whole new world to me in terms of baseball, women in baseball, and African Americans in baseball," Stan shared. The experience jump-started the last 20 years of Stan's research, writing, scholarship, and speaking about baseball. This ultimately led to Stan becoming a TEDx speaker.
Speaking about baseball is nothing new to Stan. He occasionally teaches a course, Baseball and American Culture, at Monmouth University and is a speaker for the New Jersey Council of Humanities. "As an anthropologist, what I am looking to do for students is to give them an understanding about not just the cultural diversity of America, but how that's such a strength of America," Stan said. A main example is how racial segregation in the U.S. prevented African Americans from playing baseball. From this, students learn how racial segregation was not only detrimental to baseball, but to society as a whole.
Looking back on his TEDx experience, Stan described being a speaker as "one of the hardest things since his doctoral thesis years ago," but through this challenge he learned a handful of important values. "Putting together a TED talk transformed me as a presenter and a thinker in regards to the whole realm of American baseball and culture," Stan shared. "It transformed the way I communicate because communication is storytelling and the best kind of storytelling has a personal basis."
As Dean of the McMurray School of Humanities of Monmouth University and Social Sciences Professor, Stan tries to find a personal thread when speaking to students, faculty, colleagues, and parents. Besides being a dean and a professor, Stan works with students involved with the Center for the Arts at Monmouth. Through the process of preparing for his talk, he gained a newfound understanding for the issues performers face.
Currently, Stan is working on a book which he credits TEDxNavesink 2014: Play with helping him become more focused and motivated. Stan is very excited about TEDxNavesink 2015: Accelerators being held at Monmouth University in April. He feels a university is a perfect setting for TED Talks and hopes the event will help Monmouth become more integrated into the local community. Stan is also excited about the interactive quality of TED. "Everyone is equally a part even if you aren't a speaker; you are part of the conversation," Stan explained.
So, if you want to be part of an amazing learning experience, click here to purchase your ticket to TEDxNavesink 2015: Accelerators today.
 Audrey Ardine recently graduated from Douglass Residential College at Rutgers University in May with a Bachelor's Degree in English. At Rutgers, Audrey was active in spreading awareness about different social justice issues on campus. She is currently working for a trade association in Monmouth County. She resides in Red Bank and has lived there for most of her life.
Don't Miss A Beat - Get our Newsletter!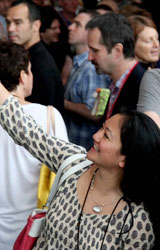 Learn about new TEDxNavesink Events
Discover local change-makers
Get fresh content from our blog
Enter your Name and Email to Subscribe!