Procrastination—Deceleration at its Finest
Don't Miss A Beat - Get our Newsletter!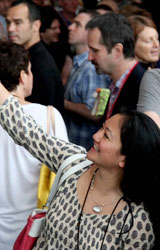 Learn about new TEDxNavesink Events
Discover local change-makers
Get fresh content from our blog
Enter your Name and Email to Subscribe!
If there was a competition for procrastination, I would take first place, hands down. I put most things off until the last possible minute, like the time I started a six-page paper an hour and a half before it was due. Luckily for me, I didn't buckle under the pressure. I handed in the paper on time and managed a decent grade. But in other situations, I'm not as fortunate.
I've spent many sleepless nights working on assignments due the next day. Each time, I would silently curse myself and vow to never be in the same stressful situation again. But I always broke that vow.
When college graduation approached, I breathed a sigh of relief. Never again would I stay up until dawn trying to finish an assignment. But I was wrong. My bad habit remained, and continued in other parts of my life. I procrastinate on making appointments, working on applications, writing this blog post— everything. It seems silly to those who don't procrastinate. "Just get it done," they tell me. But if only it were that easy.
I've had a procrastination problem as long as I can remember. Although I have always been aware of my issue, I assumed it was something I would grow out of. Most of the stress I have is due to procrastination and therefore, completely avoidable.
There are all sorts of articles about different reasons people procrastinate and its harmful effect. I think each person has their own unique reason why he or she puts things off. When I think about why I procrastinate, the reasons vary from laziness to poor time management. But there is one underlying cause—insecurity. What if I can't cut it? So, instead of overcoming my fears, I've used procrastination to avoid them.
Procrastination is ironic in a way. When I leave things until the last minute, I have no choice but to accelerate from zero to sixty within seconds. But then procrastination also works as a decelerator; there are things I keep putting off and putting off until they never end up being accomplished.
Trying to break a bad habit can't be done overnight. I have to remind myself to shut out the nagging voice of insecurity in my head. Act confident. And if that fails, I try to change my ways by taking small proactive steps. Here are some of the things that I find helpful and will hopefully accelerate squashing my bad habit:
1. Get organized. Plot out dates and times on your calendar, each with a specific task to accomplish. And stick to it.
2. Make it enjoyable. Find something about your task that interests you. If that doesn't work, think of what you will gain by not leaving it until hours before it's supposed to be completed.
3. Reward yourself. This can be something small. If I get a reasonable amount of work done, I'll let myself watch an episode of my favorite Netflix show or read a few chapters of a book.
4. Find an accountability partner. Seek someone out in your life who you know is dependable and ask them to check in with you. If you have a big deadline coming up at work, ask your friend to check in with you every few days to see how you are progressing.
5. Start somewhere, anywhere, no matter how small! I try to motivate myself by starting on simple things that are part of a bigger task. Then if I end up putting a project off longer than I would have liked, I won't have to start from scratch.
Procrastination may seem like a small personality flaw. How much impact can postponing things really have on your life? But looking back on my college and high school years, I've allowed my procrastination habit to get in the way of dreams and goals that aren't so small.
Writing this blog has shown me how to find a balance between a flat tire and 90 mph. I set draft deadlines leading up to the final deadline. I made sure to stick to these deadlines and this forced me to keep up a steady work flow. I had support from the content director, checking in with me and giving me words of encouragement along the way. This process has reinforced the idea that trying to jam pack the process of writing into a few hours the night before a deadline doesn't allow time for quality writing to be created. And this doesn't only apply to writing—this applies to most things in life.
If you're a procrastinator, don't continue to put off important goals and create unnecessary stress. Do yourself a favor and try to break your habit one small step at a time.
To learn more about types of acceleration that create positive change, attend TEDxNavesink 2015: Accelerators. The event will explore how Accelerators are creating game-changing innovation and cutting edge thought. TEDxNavesink is Saturday, April 11, at Monmouth University. Click here to purchase tickets. But hurry, they're going fast!
Audrey Ardine graduated from Douglass Residential College at Rutgers University in May with a Bachelor's Degree in English. She is currently working for a trade association in Monmouth County. She resides in Red Bank and has lived there for most of her life.
Don't Miss A Beat - Get our Newsletter!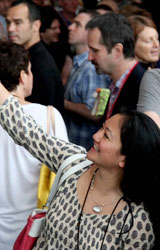 Learn about new TEDxNavesink Events
Discover local change-makers
Get fresh content from our blog
Enter your Name and Email to Subscribe!