Abby Daly is the Robin Hood of Books
Do you remember your favorite childhood book? Maybe you were cuddled on the lap of a grandparent who read the book aloud—over and over again.
Imagine the impact on the education and lives of children who grow up with no books to curl up with and call their own. What adventures, fantastical worlds, and comforting moments are they missing out on?
Abby Daly has not only imagined this, but she is doing something to change it.
Once Abby starts talking about books and kids in poverty, it's hard for her to stop. "You don't even get out of the starting gate if you can't read," said Abby. And learning to read is only one part of the equation. Having adequate books, not just in school but also at home, is the other part. "The number of books in a home is a better predictor of a child's success than their parent's educational background," said Abby. "A good education is one of the keys for overcoming the cycle of poverty."
"We do food drives like they're nothing, and clothing drives. We should be providing books to kids in poverty just like we provide food and clothing," she said. To Abby, books are a daily necessity—not a luxury.
Like a modern-day Robin Hood, Abby is making a huge contribution to filling this gap. She is the founder and executive director of the nonprofit organization, Bridge of Books Foundation, which takes book donations from the book-rich and distributes them to the book-poor. The mission of Bridge of Books is to provide an ongoing source of books to underprivileged and at-risk children throughout New Jersey in order to support literacy skills and encourage a love of reading.
Abby brought Bridge of Books Foundation to New Jersey with its first donation of used books to children in Red Bank. That was a mere 12 years ago and now Bridge of Books Foundation is in every county in New Jersey where there are children who are not only poverty stricken, but also book-poor. Abby said, "We give out books 365 days a year and accept books 365 days a year."
Prior to becoming a mother, Abby was an attorney with the State of New Jersey, where she pursued mental health and children's rights cases. This experience opened her mind and heart to the plight of disadvantaged children, planting a seed of what was to come. As a new mother Abby was feeling restless and in need of a project to keep her intellectually stimulated and also teach her children about the value of charity. She heard about Bridge of Books from a woman who had started the organization in California. As Abby's son and daughter grew, so did Bridge of Books. Abby said, "My kids have literally grown up delivering books with me."
Bridge of Books, an all-volunteer organization, has distributed nearly a half-million books and set a goal of distributing 1 million books to low-income children by 2020. Vonage, in Holmdel, has recently offered space for the expanding infrastructure to help this growing organization meet their goal.
And there's nothing quite like the joyful expression of children who leave school hugging a bag of books they can call their own. Abby tears up when she reads the many letters of appreciation from the lucky kids on the receiving end of her Robin Hood efforts. This excerpt from a note from Stephen is a perfect example of what keeps Abby and her team of volunteers going:
"I will read the books with lots of care and if I acsendently break one

I will fix it espeshialy Diary of a Wimpy Kid."
To share her passion Abby will deliver a talk titled, "Books: Bridging the Gap" at TEDxNavesink: Accelerators. Abby hopes that her TEDxNavesink talk inspires each person in the audience to go home and gather up books for donation. She wants to wake up the book-rich in our area to the recognition that there are children just a few miles away who have fewer than ten books in their homes.
"TED is all about spreading ideas," said Abby. "And how many ideas have we lost because kids don't have equal access to books? Everyone else up on the stage with me wouldn't be there if they hadn't had access to books as kids."
Just like Robin Hood's band of Merry Men, now is your chance to join in Abby Daly's social bandit movement. Start clearing off your bookshelves of gently used children's books and donate them to the Bridge of Books Foundation where you can be assured they will make their way into the hands and hearts of the children who need them most.
Learn more about Abby and her mission by visiting the Bridge of Books Foundation's website at: www.bridgeofbooksfoundation.org. Oh, and you might want to check out Abby's favorite children's books: The Day The Crayons Quit by Drew Daywalt and The Impossible Knife of Memory by Laurie Halse Anderson.
To hear Abby and other powerful speakers, click here to get your tickets to TEDxNavesink: Accelerators on April 11 at Monmouth University. Hurry, they're going quickly!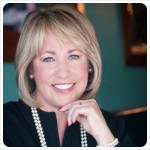 Jamie Sussel Turner is a first-time TEDxNavesink volunteer and serving as the content coordinator and blog editor. Jamie is an author, speaker, professional coach and former school principal. She works with business owners and executives who are stressed because work has taken over their lives. She helps them become clear and confident leaders who build dedicated teams so their businesses are more successful and they have more of a life. Jamie recently published her first book: Less Stress Business: A Guide for Hiring, Coaching and Leading Great Employees. She is a certified Social and Emotional Intelligence coach and a Fierce Conversations Certified Facilitator. Jamie is the President-Elect of ICF-NJ (International Coaching Federation of New Jersey).
Don't Miss A Beat - Get our Newsletter!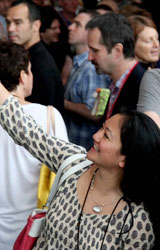 Learn about new TEDxNavesink Events
Discover local change-makers
Get fresh content from our blog
Enter your Name and Email to Subscribe!