TEDxNavesink 2015: Know Before You Go!
It's Wednesday and your week might be dragging. But cheer up and get excited because TEDxNavesink: 2015 Accelerators is happening this Saturday! This may be the first TEDx event you are attending or maybe the second or third. Either way, you'll want to make sure this is your best TEDx event yet. What do you need to know? What should you expect? Check out the following tips to prepare yourself and be guaranteed an unforgettable TEDxNavesink experience!
Get to know the speakers beforehand. Our writers work hard to produce blog pieces about our speakers for a reason—to introduce them and their talks the audience before you take your seat on April 11. So, go to our blog, read up on the speakers, and remember to check out all of the team members who made this event possible!
Bring a discussion partner. You will be learning lots of new ideas. Bring a friend, spouse, or family member with you to discuss, disagree, and chew over all the ideas you'll be hearing.
Download Guidebook App. Curious about the lineup for event day?  With the Guidebook App you'll have the program of the event right at your fingertips before you even arrive. This handy app has speaker times, social media links, other TEDxNavesink attendees, and much more!
Bring business cards. This will be the largest TEDxNavesink event yet. Why not use this as an opportunity to meet new people and network? Bring some business cards, or if you download the Guidebook App, you can create a digital business card and share it with others who also installed the app.
Dress casual. This will be a long and eventful day and comfort is key—no need to show up decked out in a suit or heels.
Arrive early and know where you are going. Accelerators is Saturday, April 11 at 8:45 a.m. in Pollak Theatre at Monmouth University. Once you arrive at Pollak Theatre, you will need to check in and get your badge. Make sure you arrive on time. Don't show up a minute before the event is supposed to start and get stuck waiting in the check in line.
Get the conversation started. TED is all about sharing ideas and this sharing starts before the event and continues long after. Start a conversation. What speakers are you most excited for? What do you hope to learn? Share these thoughts with your friends and on your social media accounts. Start a conversation with TEDxNavesink whether it is on Twitter, Facebook, Instagram or LinkedIn. We even have a radio stream on iNAVE through RadioFlag (@TEDxNavesink is our account ID handle).
Use #TEDxNavesink in your posts. Let's be real. On event day, you probably won't be able contain your excitement and you'll want to share about the event with the world of Twitter, Facebook, and Instagram. Post away, but don't forget to tag #TEDxNavesink in your posts.
With that being said, make sure your phone is charged. It would be such a shame to show up on event day with only 20 percent battery on your phone. How will you take pictures? How will you post to Facebook and Twitter? Don't be that person. Make sure your phone is fully charged before you leave the house. But just in case, there will be a few charging stations available at Pollak Theatre.
Be ready to have a fantastic day. There is a reason that TED Talks rack up thousands, even millions of views on YouTube. They are inspiring and they're a quick and easy way to learn about a wide variety of topics. And you get to be part of the TEDx experience. So be ready to have an inspiring idea filled day!
We can't wait to see you on April 11! If you have any further questions about the day of, connect with us by following this link. And if you haven't bought your ticket yet, get yours today!
Audrey Ardine graduated from Douglass Residential College at Rutgers University in May with a Bachelor's Degree in English. She is currently working for a trade association in Monmouth County. She resides in Red Bank and has lived there for most of her life.
Don't Miss A Beat - Get our Newsletter!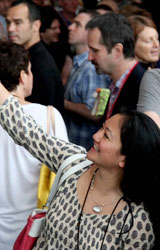 Learn about new TEDxNavesink Events
Discover local change-makers
Get fresh content from our blog
Enter your Name and Email to Subscribe!