Test your TEDxNavesink Knowledge!
TEDxNavesink 2015: Accelerators is tomorrow. Do you know everything about our speakers? Test your knowledge and brush up before the big event!
Which TEDxNavesink speaker is a contributor to Scientific American and NOVA, and works with The Large Hadron Collider, the highest energy particle accelerator in the world?
Who studies the science of relationships and has been featured in The New York Times, Ladies Home Journal, WebMD and The Scientific Mind?
Which speaker wanted to be an engineer and a mathematician, but then discovered his passion was writing (and wrote four books!)?
Which TEDxNavesink speaker uses her background in investigative journalism to bring about social change?
Who thinks impatience is not necessarily a bad thing and thinks that coupled with perseverance, impatience can move mountains?
Which speaker has test driven cars in Detroit, Paris, Turin and Geneva and written about the experiences in his column in The Wall Street Journal?
Who is a recipient of the Myers Center Award for the Study of Human Rights in North America and is a consultant to government agencies nationally and internationally?
Which speaker is working to help the small island nation of Kiribati get its voice heard in global climate discussions?
Who has helped distribute a half a million books to kids in need across New Jersey?
Who once held the title of "World's Strongest Woman" and "World Champion" in the field of women's professional weightlifting?
Which two speakers both worked on Watson, the computer that won on Jeopardy!?
Which TEDxNavesink speaker wants to help shed light on the narcotics addiction epidemic in the United States?
Who has been influential in tech industry and is now working to build healthier communities?
Which speaker wants us to renew, reimagine, rethink and reinvent the way we think about our lives?
Who was a journalist for 20 years before founding Audible, the largest seller and producer of audiobooks and other spoken-word content?
Which speaker is a half-marathon runner, piano player, and the CEO of a corporate branding firm?
Which two speakers are working to change the way audiences listen to radio through connective listening?
Who wants to use the patient voice to enhance the way health care providers innovate?
Which speaker is working to improve the way New Jersey's middleclass lives?
Who uses his guitar to help deliver messages to individuals and companies realizing their untapped potential?
What angel investor became Wall Street's first social media analyst?
Answers:
Don Lincoln
Gary Lewandowski
Kaihan Krippendorff
Michele Mitchell
Ted Coine
Dan Neil
Gail Dines
Brian Reynolds
Abby Daly
Karyn Marshall
Chris Welty and Lora Aroyo
Mitchell Delmar
Esther Dyson
Nadya Zhexembayeva
Don Katz
David Srere
Annika Lorienne and Ravind Kumar
Sarah Krug
Philip Murphy
Mike Rayburn
Lou Kerner
Check out all our speaker blog posts as well as the great themed posts to get you in the mindset for TEDxNavesink! See you tomorrow!
Stephanie Eichmeyer is a content production and marketing specialist for the TEDxNavesink team. She is currently pursuing a master's degree in communication from Monmouth University. Stephanie has a bachelor's degree in journalism from the University of Missouri-Columbia and has worked in journalism and PR for many years. 
Don't Miss A Beat - Get our Newsletter!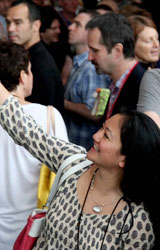 Learn about new TEDxNavesink Events
Discover local change-makers
Get fresh content from our blog
Enter your Name and Email to Subscribe!