Passionate Architects Build the Architecture of Our Lives
By Meghan Busch
Architects affect our everyday lives; they design buildings both large and small all around the world. From the homes we live in to the buildings we work in, architects make an impact on our lives, even if sometimes we don't notice. We take for granted the fact that someone put their heart and soul into the design of a building. An architect's passion is evident, from the layout of a child's playroom to the acoustics of a theater, and this passion makes an impact on society and in our lives.
Architecture has a strong history in New Jersey. Famed architect Frank Lloyd Wright designed four homes in the state and Lucy the Elephant greets people in Margate. That history of architectural innovation continues to grow in the Garden State, heavily influenced by The New Jersey Institute of Technology (NJIT) architecture program that encourages future architects.
Justin Scalfani is a recent NJIT grad that passionately believes that the role of an architect is to make a difference in people's lives. Justin is a Project Manager at Guzzo + Guzzo Architects, LLC based out of Lyndhurst, NJ. The firm works on many projects in New Jersey.
When an architect designs a building, the goal is to create something that enhances the lives of everyone and everything around it. The people that will use the building guide the design process. In fact, the end user is a crucial part of the process. Because architects do not always use the buildings they design, it is important to understand the needs of the people that will.
"The people that will use the building are some of the most important players on the design team because we need to know exactly what they are going to need in the space so the design can accommodate their needs" said Justin.
Even those these users guide the design process, the initial process begins with an idea. This idea is the driving force for every decision made throughout the project. Once the idea is solidified, everything else starts to fall into place.
So much goes into the design of a building, and that is what draws many people, including Justin, to architecture. Buildings are very intricate; there are so many different parts and pieces of a building that are required for it to function properly. However, the majority of the parts are never seen. A building needs pipes for plumbing, wires for electricity, framing for the walls and the roof, and all of the other strategically placed parts inside the walls. Architecture is like solving a puzzle, where all of these pieces need to fit and work perfectly together inside a building. The puzzle also needs to be functional and aesthetically pleasing.
When an architect designs a home there are two groups of people that are affected by the design. The first group is the family that lives in the home or the business that will reside there, especially if it was built to their specifications. The structure also affects the neighborhood it is in. The quality of the neighborhood is increased by the new house or business and also because it urges others in the neighborhood to improve their homes as well.
Many design projects impact people and neighborhoods, but Justin's favorite projects to work on are school projects. Schools create a learning environment that becomes one of the most important areas for a child. If a child grows up in a school building that helps foster creativity and learning, it can make a difference in their future. In fact, a study in the United Kingdom found that environmental design qualities such as classroom orientation, natural light, acoustics, temperature, air quality and color can affect academic performance.
While many people want to be architects and involved in design projects, it is very difficult to become a licensed architect. It requires five years of schooling, 3,740 hours of interning, and the successful completion of the Architect Registration Examination (ARE). Justin is currently studying for his ARE.
Justin stressed that fact that architects have a great responsibility because of the impact they have on society. Architecture is as much about design as it is about real world scenarios. Something can be designed to be extremely beautiful, but if it is not designed to be functional, it is not designed properly. A building must withstand time and allow people to use it to its fullest potential. Architects are also responsible for the safety of everyone who comes in contact with the building, which is a pretty great responsibility. Architects have the power to impact many people and make a difference with their creativity and skills.
TEDxNavesink 2016 is centered around makers, because really, like architects, we're all makers. Architects and other makers create revolutionary ideas and help build and advance society.
TEDxNavesink 2016 will be held April 9, 2016 at Monmouth University in West Long Branch, New Jersey. Tickets will be on sale soon, so stayed tuned! An easy way to keep up to date with the latest information is to sign up for our weekly newsletter. Click here to sign up. For more information, visit www.tedxnavesink.com.
Image courtesy of Roman Kruglov | Flickr 
Don't Miss A Beat - Get our Newsletter!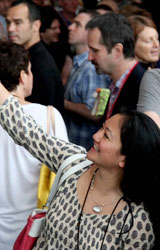 Learn about new TEDxNavesink Events
Discover local change-makers
Get fresh content from our blog
Enter your Name and Email to Subscribe!