Rutgers Makes Playing in the Park a Whole New Experience
By Cheryl Auditor 
A creative acting group is rethinking the way theater is presented, and they're doing it with style and flair. And they're doing it on the cheap.
rethink Theatrical, a group of Rutgers students who perform plays for New Brunswick, NJ and the surrounding community, has a mission of immersing its audience in mischief and magic while bringing classic plays to life. The group recently performed A Midsummer Night's Dream, bringing the popular Shakespeare story of four Athenian lovers to Rutgers Garden. And they did it with no money.
rethink Theatrical seeks to create performance art by means of a zero-dollar budget, fostering reinvented production design and accessible theatre for a culturally-hungry community. The group believes a large budget isn't necessary to create great performances, and that art like the classics should be free to all.
To put this zero-dollar budget into perspective, an Off Broadway production of A Midsummer Night's Dream usually has a budget of nearly $2.4 million. That's millions to zero, folks. Impressive.
rethink's production of A Midsummer Night's Dream was full of fairies guiding visitors through the woods, royals regaling with their singing, and bumbling players making the audience roar with laughter. It was clear from the performance that these actors are full of passion and want to give their audience a taste of quality in an outdoor setting — all for free. These actors put their heart and soul into their performance, as much as any Broadway actor would.
Since they don't use money toward set, props, or costumes, reThink Theatrical's performances are 100 percent free and accessible to the public. This gives college students the chance to hone their acting abilities and the community the opportunity to see and experience quality theatre.
reThink works closely to support local businesses in order to bring visibility to the group in a community that may not have been exposed to them previously. They strive to reinvent ways that places like Rutgers Gardens, a self-sustaining operation that relies entirely on the community for support and where the group performed A Midsummer Night's Dream, to be experienced in the most appropriate way possible. This group is truly embedded in the community they serve.
reThink is always on the look out for more performances. Have any ideas? Places they could perform for free? Ways to optimize their theatricality without a cost? Comment in the section below and let us know, and check out reThink's website for upcoming events and ways to support the group.
TEDxNavesink 2016 is all about Makers just like rethink Theatrical. The event on April 9 will explore the essence of creation, those who choose to make a difference, innovate, and create. Interested in learning more about TEDxNavesink? Click here to sign up for our newsletter! We'll even send you a notification when tickets go on sale!
Don't Miss A Beat - Get our Newsletter!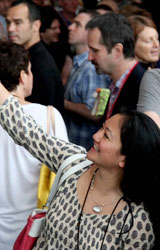 Learn about new TEDxNavesink Events
Discover local change-makers
Get fresh content from our blog
Enter your Name and Email to Subscribe!