8-Year-Old Proves Business Can Be Child's Play
Maxwell Lanfrank is like most 8-year-old boys at the Jersey Shore: he loves the outdoors, he plays Pop Warner football, he goes fishing with his dad, and he's a bit curious.
But unlike most of his peers, Maxwell spends a portion of his weekends in a lab (well, actually a kitchen posing as a lab) mixing ingredients to make his own line of all-natural hand sanitizer and lip balm.
It's all part of a business, MoMax Enterprizes, he started a few months ago with the help of his grandmother.
Maxwell's journey from an average kid in Eatontown to entrepreneur/scientist/boy wonder was sparked by an Aloe plant, fueled by curiosity, and driven by an aversion to germs.
His great-aunt gave him that Aloe plant after the two went horseback riding in the spring. He brought it home to his mother and grandmother and decided to research what he could do with it.
"Maxwell's always been one of these curious children and I've always been willing to feed his curiosity and help him discover things," said Liz Balogh, Maxwell's grandmother. "I asked him, 'What are you passionate about?' We started talking about hand sanitizer—because he's a germiphobe—and lip balm. He's obsessed with them. He'd have at least 20 of them at any given time."
So they began to research how to make hand sanitizer and lip balm, but with one stipulation from Maxwell: the ingredients had to be natural and organic. Maxwell's 2-year-old sister would often get a hold of his lip balm and try to eat it, so he wanted to make sure his products would be safe for her strange appetite.
"We did research, we had to learn the ingredients and buy ingredients, and it took a couple of days to figure it out," said Maxwell, a third-grader at Vetter Elementary School in Eatontown. "It took a lot of tries. We had to keep melting down the stuff for the lip balm. We had to try it, then melt more and try it again."
After finally figuring out a few formulas for lip balm and hand sanitizer, they were ready to test their products. Taking a page out of the corporate world, they formed a focus group. They gathered people from Maxwell's neighborhood in Eatontown as well as Liz's community in Toms River. The test panel tried the products and answered a questionnaire.
After compiling the data, Maxwell and Liz decided on four products: Sun Beam Sanitizer (a blend of lavender, tea tree and mint essential oils), Moon Beam Sanitizer (essential oils of herbs known as Four Thieves Oil), Bee Kind Lip Balm (with beeswax and coconut oil), and Crazy for Cocoa Lip Balm (with cocoa butter).
"The lip balm is my favorite product because we make them from cocoa butter and it's really good," Maxwell said.
The initial start-up for the business took place in the summer when he had more time, but now Maxwell has to balance school, sports, and making his products. He and Liz make the products on weekends in her kitchen, making a minimum of 50 of each product.
Maxwell is part of the entire process, helping melt, pour, seal, and cap every product.
"He loves when he can sell them and say these are his products and he physically created that," Liz said.
Though MoMax has only been in business about three months, the response has been positive. Maxwell's mother, Kristen Lanfrank, started a Facebook page for the business and she received plenty of orders and excitement for her son's venture.
"I was just telling my students what he does because I wanted to inspire other kids to do stuff," said Kristen, who is a high school art teacher in Rumson. "I think it's cool when kids are creating. They all tried the products and wanted to buy them."
More than a mad scientist, Maxwell and his team are intent on growing the business. He wants to visit Eatontown businesses to see if they'll carry his products. Kristen says they are also in the process of starting to sell the products on Amazon.
Like any innovator, Maxwell already has his mind set on more products. He's hoping to add lipstick and hand cream to his line soon.
And Maxwell's first goal for his business' earnings? Paying for the family's trip to Disney World next year.
"I would love that," Kristen said. "I also want MoMax to pay for his college."
Well, Maxwell's mind isn't on that long-term goal just yet. He's focused on Disney. Asked if he thinks he can make enough to foot the bill, he said:
"Yes. They've been selling like crazy."
TEDxNavesink 2016 is focused on makers of all ages, just like Maxwell Lanfrank. If you are curious about creative ideas that captivate your mind, then this event is for you! Get in on a special ticket promotion running now through January 2. This ticket deal is the perfect gift for you and others on your holiday shopping list! Click here to learn more and purchase your tickets today!
Kevin Howell is a freelance writer, editor, and owner of On Point Editing. He loves the Jersey Shore and spending time outdoors, except in the winter. When he's not writing, he's running, biking, or reading and relaxing with a glass of wine.
Don't Miss A Beat - Get our Newsletter!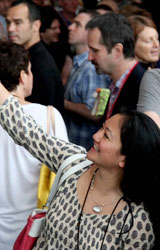 Learn about new TEDxNavesink Events
Discover local change-makers
Get fresh content from our blog
Enter your Name and Email to Subscribe!