#MakersofMonmouth Coming Soon to a Location Near You
We're all makers. We make dinner. We make a living, and we're homemakers. We make war, we make up, we make out, we make love, we make babies. We make choices. And sometimes we choose to make a difference.
TEDxNavesink's newest campaign, Makers of Monmouth, will explore the vast makers in our own community. Our organizers will be out and about in Monmouth County asking you what makes you a maker. We'll post your quote, along with a photo of you, on our social media pages. We'll use the hashtag #MakersofMonmouth so it will be easy for you to find us and follow along. We encourage you and your friends to comment, share and like our very own Monmouth Makers!
Watch for us out in Monmouth County and make your mark!
Don't Miss A Beat - Get our Newsletter!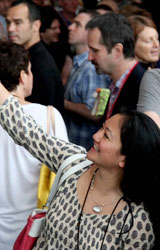 Learn about new TEDxNavesink Events
Discover local change-makers
Get fresh content from our blog
Enter your Name and Email to Subscribe!