The State of the Garden
To people who visit New Jersey via Newark airport and then head down the Turnpike, the "Garden State" may seem somewhat of a misnomer. However, the people of New Jersey know this tagline to be much more than a clever marketing ploy.
Off every exit there are roads that lead to over 730,000 acres of productive farmland, where farmers produce more than 100 different kinds of fruits and vegetables. At farmer's markets and in the grocery stores, we have come to expect food to be "Jersey Fresh."
Fresh food is big business in NJ with over 10,000 farms generating cash receipts totaling $1.1 billion (2010), making agriculture the state's third largest industry (behind pharmaceuticals and tourism).
However, fresh food in the Garden State goes beyond agribusiness. You will find people from all walks of life, in urban, suburban and coastal areas proudly growing their own food. An increasing number of schools are incorporating garden-based learning into nearly every subject to enhance the appreciation of the natural world. These are incredibly important trends, yet too many people turn to fast food and cheap, processed food for nearly every meal. This is a public health, socio-economic and cultural challenge that has been addressed in multiple TED talks, and expect Jersey-style treatments on this topic at the upcoming TEDx Navesink conference as well.
In the meantime, here are two inspiring and thought provoking TED talks about growing and preparing your own food that everyone should see:
From LA South Central - How to get inner-city people to grow food in the streets: Telling them growing food is like printing your own money, says "guerrilla gardener" Ron Finley.
[ted id=1685]
Children today represent the first generation in human history with a shorter life expectancy than their parents. Here's how chef Jamie Oliver proposes to reverse the trend.
[ted id=765]
Don't Miss A Beat - Get our Newsletter!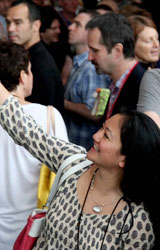 Learn about new TEDxNavesink Events
Discover local change-makers
Get fresh content from our blog
Enter your Name and Email to Subscribe!