Asbury Fresh market showcases local creatives
This summer, every Sunday from noon till 6pm Asbury Park will serve as the home of a local farmers' market. The market is located at Kennedy Park at the corner of Cookman and Grand Avenues. Asbury Fresh is described by its creators as a "local artisan market" that will provide a venue for local farmers and artisans to sell their products, from fresh produce to handcrafted jewelry.
Bret Morgan, one of the market's organizers and a co-founder of Asbury's own Cowerks, describes the market as "important for the downtown" because of the limited availability of fresh produce at nearby grocery stores. One of three farmers' markets in town, Asbury Fresh is notable for its inclusion of crafts vendors that offer unique products otherwise difficult to come by. There is also the wide geographic reach of Asbury Fresh's participating vendors. Hank Sauce, who sell homemade hot sauce in a variety of flavors, is based out of Sea Isle City while Jar Goods, who offer of an assortment of jellies and jams, hails from Hoboken, NJ.
Stefanie Bierman owns Smiling Earth Elixirs, a pop-up shop specializing in handcrafted herbal teas, aromatherapy candles, and recycled glass. Bierman describes Asbury Park as a great location for a farmers' market, praising the city's "eclectic" feel. While only her second time participating in Asbury Fresh, Bierman points out how much the market has already grown. 15+ vendors were present last Sunday, already a marked improvement from last year's numbers, and its organizers are anticipating further growth.
Morgan describes Asbury Park as a "playground for entrepreneurs." Prior to moving to Asbury, Brett lived in Montclair, NJ where he found a mix of cheap rents and a community receptive to the arts and new ventures. Over time, however, the cost of living increased forcing him to look elsewhere. At the time, Asbury was still in the earlier stages of its transformation from a somewhat vacant city to a more thriving downtown. Morgan jumped on the opportunity to start his own business in downtown Asbury Park.
Asked about Asbury's success in promoting a diverse business community, "It all boils down to culture," Morgan explains. Using Cafe Volan and Rook Coffee Roasters as examples, Morgan suggests that a company like Starbucks would have a tough time providing the same kind of experience for their customers. "If your business has a sustainable culture, you're not going to be able to compete with that."
Don't Miss A Beat - Get our Newsletter!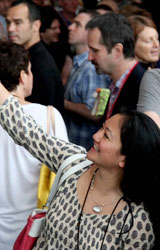 Learn about new TEDxNavesink Events
Discover local change-makers
Get fresh content from our blog
Enter your Name and Email to Subscribe!