Big ideas coming to Jersey Shore for TEDxNavesink conference (via NJ.com)
By Christopher Robbins/NJ.com
MIDDLETOWN – If tomorrow belongs to those who plan for it today, then the Jersey Shore's future looks bright
While the Jersey Shore's current leaders manage issues like storm recovery, transportation and economic development, a group of business executives, academics, environmentalists, artists and thinkers will gather at Brookdale Community College on Sept. 20 for the TEDxNavesink conference to imagine the New Jersey the next wave of leaders will inherit.
"What it is evoking is the next generation of cultural life and of life on the shore, and the way we think about the next generation on the shore," said TedXNavesink organizer Brian Smiga. "What do we have as citizens to say in terms of the ocean and the shore environment, cultural life, innovation, startups, the economy, attracting talent."
This will be TEDxNavesink's first year, but Smiga said he would like to see it become an annual event.
"People should expect ideas they've never heard of before," Smiga said. "They should hear thinkers and artists they've never heard of before. It should be a discovery. They should also expect that they are going to want to talk about what they just saw with their neighbors at the conference and when they co home. There will be useful, exciting ideas, and that sums it up pretty well. Really, we want to surprise people with things they didn't know. I think every speaker we have curated will bring surprises to the stage."
The conference will feature presentations and performances by guitarist Kaki King, Kerri Martin, founder of Asbury Park's Second Life Bikes and filmmaker Ben Kalina, who is currently working on a short film about the ongoing U.S. Army Corps of Engineers beach replenishment project along the Jersey Shore.
"I will be sharing my experience of creating a bike-centric community in and around Asbury Park, as told through chalk," Martin said in publicity comments.
Second Life Bikes is an earn-a-bike program and community bike shop where city children are taught to repair and maintain bicycles.
The event's theme, The Next Wave, is intended to stimulate thought on the future of the Jersey Shore.
A brain trust of American inventors, artists, philosophers and entrepreneurs met in California in March TED 2013, a four-day conference featuring more than 50 presentations designed to stimulate and provoke ideas and innovations. Now, the Jersey Shore will play host to its own version of the event.
TED, short for technology, entertainment and design and founded in 1984, has spun off into a series of regional conferences called TEDx. All conferences retain a format of small audiences, short presentations and programming free from any commercial, religious or political agenda.
Clean Ocean Action Executive Director Cindy Zipf will make a presentation at the conference.
"I look forward to talk about our work of protecting the New York Harbour for its millions of residents with a Clean Ocean Zone," Zipf said in a press release.
The conference will present a strong focus on economic development within the micro-urban environment of the north Jersey Shore.
Microsoft executive Tereza Nemessanyi will discuss social media's potential as a launchpad back into the workforce.
"Whether you're 8, 28 or 80 , we all have a "next wave" stirring inside," Nemessanyi said. "I'm so excited to join TEDxNavesink to explore the Jersey Shore's world of the possible."
Alon Hillel-Tuch, founder of web crowdfunding tool RocketHub, will make a presentation on how crowdfunding can fuel nascent businesses.
Smiga hopes the presentations on stage will encourage thought and conversation among the audience, who can then carry their experience to the wider public.
"You need new events like TED. It isn't just the 25 talkers, it is the conversation between and among the people," Smiga said. "The collaboration and conversation among everybody is what will ultimately attract more talents and startups to our area."
Though the event is open to the public, space is limited and all attendees have to register. Tickets cost $40 for general admission, $22 for students.
via Big ideas coming to Jersey Shore for TEDxNavesink conference | NJ.com.
Don't Miss A Beat - Get our Newsletter!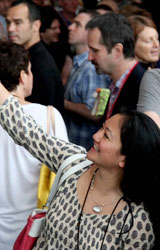 Learn about new TEDxNavesink Events
Discover local change-makers
Get fresh content from our blog
Enter your Name and Email to Subscribe!