TEDx comes to Navesink in September (via app.com)
MIDDLETOWN — A version of the global conference that brings together great thinkers to talk about "ideas worth spreading" is coming to Monmouth County next month.
A group of about 20 local volunteers have come together to host TEDxNavesink: The Next Wave, a fast-paced, day-long forum featuring about two dozen speakers that will speak about ideas for the future of the Jersey Shore.
"It's a non-fiction theater of ideas," said Brian Smiga, an organizer of TEDxNavesink, which will be on Sept. 20 at Brookdale Community College's Performing Arts Center.
"It brings together global and urban thinkers as well as the best thinkers around here to express new ideas."
TEDx events are locally organized forums that mirror the experience of TED, a globally recognized conference that began 29 years ago by bringing together world experts in technology, entertainment and design.
Smiga said he attended TED for three years from 2002 to 2004, calling the conferences a "mind-opening" experience. And since then, he has wanted to bring a TEDx event to Monmouth County.
Planning for the event started last summer with the original location to be Sandy Hook. But superstorm Sandy changed those plans, moving the event from the spring to the fall and to Brookdale.
While some speakers will incorporate Sandy into their talks, all of which are 18 minutes or less, the focus is the future of the shore specifically drawing talent to the area.
Smiga said the various talks will fall under the umbrella of the sea and living at the shore, innovation and startups and the history of innovation in Monmouth County — which he said was on the cusp of being Silicon Valley during the 1960s. Some talks will also be about self, organizational development and entertainment.
The topics run the gamut from the historical perspective of "selfies," photographs people take of themselves and post online with cell phones, to beach replenishment; crowdfunding to feminism.
Among the speakers are Tereza Nemessanyi, who runs Microsoft's business with startups on the East Coast and Harrison Owen, a Washington, D.C.-based author and consultant who has worked around the globe helping communities, businesses and other organizations through critical issues.
Owen said that what he's learned from his work is that the best resources come from the communities themselves as they decide how they want to proceed in the face of conflict.
Chaos like Sandy, he said, is both "a mess and an opportunity."
"If you didn't have any chaos, you wouldn't have any life," he said.
Susanne Cervenka: 732-643-4269; [email protected].
via TEDx comes to Navesink in September | The Asbury Park Press NJ | app.com.
Don't Miss A Beat - Get our Newsletter!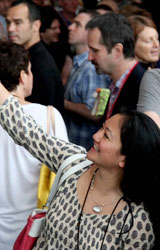 Learn about new TEDxNavesink Events
Discover local change-makers
Get fresh content from our blog
Enter your Name and Email to Subscribe!