"Guitar God" Kaki King Confirmed as Performer at TEDxNavesink
We're thrilled to announce that  global "Guitar God" Kaki King will be performing during a twenty minute set between 4-5 p.m. at TEDxNavesink on September 20. You will not want to miss the performance! Purchase tickets at tedxnavesink.com.
Currently on tour, King is known for her percussive and jazz-tinged melodies, energetic live shows, use of multiple tunings on acoustic and lap steel guitar and her diverse range in different genres. Rolling Stone has called her a "genre unto herself." When she plays, King says, "there's a lot of really strong flailing and strumming and beating."
Over her decade-long career, the Brooklyn-based guitarist/composer has recorded five extraordinarily diverse and distinctive LPs, performed with such icons as Foo Fighters, Timbaland, and The Mountain Goats and has contributed to a variety of film and TV soundtracks that span Golden Globe-nominated work on Sean Penn's Into The Wild  and the acclaimed drama August Rush. She continues to perform to ever-growing audiences on innumerable world tours.
If you listen to NPR news shows, chances are good that you've already heard the music of Kaki King. Her rich, distinctive guitar playing is a favorite of the station directors. In an NPR interview she talks about the inspiration and process behind the creation of her latest album 'Glow'. Watch the making of 'Glow' on Paste. According to King, it really was a short and beautifully sweet process.
"On the last record we definitely had a lot of beautiful guitar work but it kind of got layered and smothered and covered up," King said. "But, on this record I feel like all of the guitar work is really enhanced by everything around it."
According to Taylor Evans on Paste, "Kaki King's new instrumental album Glow is a beautiful showcase for the artist's talent with a guitar. Her sixth full-length album takes King back to her roots, and its combination of styles prove that King is queen of the guitar." Recorded in Woodstock, N.Y., the album features famed string quartet ETHEL. Paste has an exclusive video that chronicles King's inspiration and journey for the making of Glow.
TEDxNavesink: The Next Wave will be held live from 8 a.m. to 5 p.m at the Brookdale Community College Performing Arts Center. Purchase tickets today and join 360 guests for 24 live talks and 100 minutes of live and pre-recorded material from TEDxCity2.0 taking place at Times Center NYC and in major cities around the world. Innovators in education, technology, science and sustainability will give the talks of their lives during 5-18 minute presentations that focus on their contributions, thoughts and vision for the future of the New Jersey Shore.
Don't Miss A Beat - Get our Newsletter!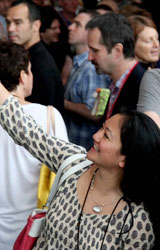 Learn about new TEDxNavesink Events
Discover local change-makers
Get fresh content from our blog
Enter your Name and Email to Subscribe!