New Jersey, the Next Silicon Valley?
Avi Karnani has wacky ideas. Like dropping a hedge fund job to start up a personal finance business. Or incubating a company that helps people not spend their money.
But his latest idea may be the wackiest of all –turning NJ into a hot bed of new technology, or as he calls it, an innovation ecosystem.
The Garden State is known for doing a few things well – tomatoes, blueberries, horse racing. But launching start-ups and new technologies? Um, no. We're still stuck on Marconi and carrier pigeons.
But Karnani thinks our humble state possesses all the major ingredients for Silicon Valley type innovation – great infrastructure like roads and rails, a lot of smart people and money. "We live in the future," Karnani said. "The 15-year-old kid in me wakes up every day and goes, 'na ah'."
The only problem, he says, is no one is talking about it. That is until Sept. 20 when Karnani and a list of other smart speakers take the stage at Brookdale for a locally organized TED conference called TEDxNavesink: the Next Wave.
Let's backtrack a bit and take a look at how Avi Karnani got to be an authority on innovation. At 32 Karnani has already built an impressive portfolio, like co-founding Thrive, a credit counseling and asset building company that he sold in 2009 to Lending Tree and GetRaised, an easy-to-use website that helps underpaid people build a personalized raise request to get paid more – recently called out by Lean In as a tool to help narrow the wage gap.
"I work at the intersection of technology and behavioral science," Karnani said. But rather than being all Mad Men about figuring out how to tap into behaviors to get you to buy more stuff you don't need, he's looking at how to use your own behaviors to help you make better decisions as a consumer that will help you live a better, and perhaps more profitable life.
His next project will be in social lending to help the unbanked and underbanked, whom he estimates to be in the 10s of millions, get the personal finance resources they need. Because, he said, it's hard to send your kid to college when you don't have a checking account. And on the base level, it's nice when you don't have to wait in a line around the block at a crowded tiny theater in Brooklyn, because you don't have a bank card to use in one of the speedy lobby machines.
In his TEDx talk, Karnani said he will overlay the valley between San Jose and San Francisco onto the East Coast corridor between New York and Philly to show how the regions similarities – physically, economically and socially – make it ripe for an innovation ecosystem. Based on his experience in the start-up world in Silicon Valley, he'll point to New Jersey's resources like our hub in the biopharma industry, and the innovation roadblocks we face, like a lack of incubator office space.
So is it possible for New Jersey to move beyond our beaches and thoroughbreds? Karnani says yes, because the talent is here. "I get two calls a week from people in finance who want to make the jump to tech," he said. About the move toward innovation, he said, "New Jersey can think about being the heart of it."
Right now the self-proclaimed "central Jersey kid" lives in Brooklyn where the let's make something vibe is in everything from pickles and chickens to internet start-ups. But he acknowledges, Brooklyn isn't a long term home for him, as it isn't for many of those entrepreneurs as they seek to build families and put down roots.
"I would like to return to my home state someday," Karnani said, "and live in and around innovation. But if New Jersey doesn't start taking steps toward nurturing innovation, he said, "It will all have been an idea."
Don't Miss A Beat - Get our Newsletter!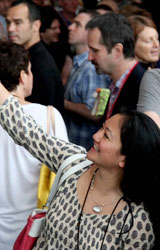 Learn about new TEDxNavesink Events
Discover local change-makers
Get fresh content from our blog
Enter your Name and Email to Subscribe!