What to Expect at TEDx Navesink at Brookdale
No doubt you've watched TED Talks before and seen those enthralled audience members nodding and smiling along to PowerPoints led by some of the great minds of the world. Did you ever wonder what it was like to attend a TED event? And what would it look like on a local level?
We wondered the same thing and so we asked a local resident about her experience at an international TED event. We also spoke with Brian Smiga who's heading up the team behind TEDx Navesink: The Next Wave and tried to get a feel of what to expect on September 20 at the locally organized event to be held at the Brookdale Community College Performing Arts Center.
Here's what we learned.
Designer Robyn Stratton-Berkessel is an Atlantic Highlands resident who attended the 2009 TED Talks in India. For her it was a dream come true to attend the elite and costly conference (tickets run about $7,000 and sell out more than a year in advance). A serendipitous timing of a business trip to Nepal and deeply discounted admission enabled her to hear talks by scientists, business leaders, innovators and artists all while soaking up the rich culture of India that the conference incorporated.
"TED really lives up to its vision and mission," she said. "People feel honored and privileged to be a part of the live event. It delights all the senses."
Besides the talks on stage, TED events are a chance for attendees to network and socialize. That's where she said she found rich conversations about innovations and business investments, and also built some lasting relationships with like minded people.
And the talks themselves? "It's pretty inspiring stuff. You have these speakers who've made fabulous contributions to the world. Gifted and talented people, saying provocative things, stretching your brain, it can be exhausting," she said.
Stratton-Berkessel said that she stopped taking notes and just sat back to take in what she could. "It was much more than cerebral content," she said. "The entertainment, the cultural experiences, the between talk chats with attendees, and the appreciation of the local environment all contributed to such a rich experience."
One Talk that stood out for her was Dance to Change the World by Mallika Sarabhai.  She demonstrates how art can bring about social change.
So what can you expect at a locally organized TEDx event like TEDx Navesink? Here's what TEDxNavesink's lead organizer Brian Smiga had to say.
"I've attended three TED events and sponsored two," said Smiga. "Ever since I've wanted to bring the TED experience to Monmouth County because today we can attract the best minds and talent from the region to speak about the future of coastal life. It will be like a week of college, with talks by leading thinkers and doers from startups, open source community, universities, research labs … from companies like Microsoft and some of the best minds and artists drawn from Monmouth County and New York."
Stratton-Berkessel said that because this is a licensed event, she said, "The quality and the standards (of TED Talks) will be upheld, so a high expectation is good."
To get the most out of the day, Stratton-Berkessel says, come with a mindset that says, "I want to learn. I'm excited to hear different perspectives."
"I hope people come with an intrinsic motivation to learn something new, hear new and/or great ideas, meet inspiring, highly energized people who care about the region and its community. It's an opportunity for connection."
TEDxNavesink: the Next Wave is several conferences in one because it offers performances by Kaki King, one of the top guitarists in the world, and other local entertainment, the complete simulcast of TEDxCity2.0 live from the Times Center in New York, a community art project, and great networking accompanied by Rook Roasters hand-crafted coffee and leading art works and photography from our region. Purchase your tickets today.
Don't Miss A Beat - Get our Newsletter!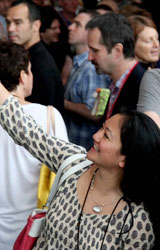 Learn about new TEDxNavesink Events
Discover local change-makers
Get fresh content from our blog
Enter your Name and Email to Subscribe!