Video: Paper Age
Paper Age from FilmOneFest on Vimeo.
An animated short depicting the rise and fall of the Paper Age and its fight to continue throughout the domination of the digital age, inspired by Leistungschutzrecht, controversial legislation in Germany which would require search engines and aggregators to pay publishers licensing fees when using excerpts from texts.
Video is property of FilmOneFest, a nonprofit film festival, and has been uploaded with permission of the artist.
Don't Miss A Beat - Get our Newsletter!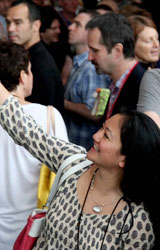 Learn about new TEDxNavesink Events
Discover local change-makers
Get fresh content from our blog
Enter your Name and Email to Subscribe!