TEDX Navesink Speaker and Filmmaker Wins Sundance Sustainability award
TEDx Navesink presenter and filmmaker Ben Kalina recently won the Sundance Sustainability Award  for his film Shored Up: When human nature and the force of nature collide.
The prize, given to films which best showcase the issues, interconnections, challenges and opportunities around sustainability and resource challenges in a global context, awards $25,000 to support creative marketing and audience-building efforts for the filmmaker.
Intended to be a glimpse into the future, the documentary film looking at sea level rise and it's relationship to coastal storms and development, turned out to be a disturbing chronicle of current events when Superstorm Sandy collided with  the Jersey Shore on Oct. 29, 2012.
When Kalina presented at TEDxNavesink:The Next Wave in 2013, he told the audience that knew a storm like this was possible, theoretically, but it caught him by surprise too, even after spending three years on the project looking at storms. When the storm hit Kalina said he was hit by a wave of nausea for all the people he had become connected to during the project, who lived and worked in places that were now, in many cases, washed away.
Second he said, he was hit with a wave of nausea knowing that the project he thought was almost finished would now take an entirely new direction.
You can watch Ben Kalina's entire talk here.
When he set out to make Shored Up, Kalina intended to bring people together, to tell an honest story, to help people find solutions to pressing problems, without polarizing them.
In the aftermath of the storm as New Jersey communities struggled to recover, bringing back the tourists was chief in the mind of many, with the summer only seven months away. The state released the Stronger than the Storm campaign aimed at unity, encouragement, and of course, reassuring tourists to come back the next summer.
But something was missing from the campaign, Kalina said, because something fundamental had changed.
Yes, we were stronger by this trial, but Kalina saw the real question his film would now need to answer, "Are we smarter for the storm?"
If in fact sea levels are rising, and Kalina cites a scientific consensus in the predicted rise rate of three feet by 2100, then many of those places rebuilding now will be underwater again. Barrier islands like Absecon, Sea Bright and Long Beach Island are continuing to erode, even as more structures are built on them.
"What are these places going to look like in 30-50 years?… It's hard to raise whole communities,"  he said in his TEDx talk.
"We quickly lose track of these cycles of storms and sea level rise and we try to engineer a lot of these places to fit the style of development that we've grown accustomed to, instead of trying to work with the natural processes in these places.
Now as he created his film, Kalina knew that it had to question our methods of holding our islands in place. He used the time after Sandy to examine the futility of beach replenishment and the alternatives of living shorelines and relinquishing communities back to the sea.
Since Shored Up wrapped, many homes and businesses have rebuilt, some higher, some not. Boardwalks have been replaced. But infrastructure hasn't changed and neither have our strategies for dealing with the inevitable, persistent effect of the ocean on our shorelines.
Are we going to be smarter than the next storm?
Kalina says, "Our work has only just begun."
Don't Miss A Beat - Get our Newsletter!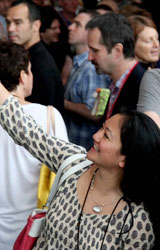 Learn about new TEDxNavesink Events
Discover local change-makers
Get fresh content from our blog
Enter your Name and Email to Subscribe!