TEDxNavesink 2014 Tickets Are Now on Sale!
We've been teasing you long enough.
There were private sales for our previous year ticket holders and members of Two River Theater, our gracious host. And now, finally, we swing open wide, the doors to the public.
Tickets for TEDxNavesink  2014 are now on sale.
This is a locally organized TED talks event (you know those thought provoking, often multi-media talks where the presenter stands on a round red rug?) You've seen TED and TEDx talks before - Those videos that snake their viral way around the world carrying ideas worth spreading.
Well here in Red Bank, at Two River Theater, we are hosting 24 leaders in sports, entertainment, business, innovation, tech, design, healing, science, psychology, community and more, to talk about one thing, from their perspective – the power of PLAY as a positive force.
Visit our speakers' page to see all our presenters. You can see how Augmented Asbury is bringing the old carousel back to life on your phone. Check out  a toy designer who wants girls and boys to be able to play outside the pink and blue boxes. See a Canadian rap artist, award-winning playwright and creator of lit-pop make his way through the history of rhyme.
TEDxNavesink isn't a lecture series, it's an experience and it lasts all day. It's a day of thought provoking, mind expanding talks, performances and art, all in a community of smart, forwarding thinking people. See it's not just about what's on stage, it's about connecting with the thinkers in the audience. This is the network you want to be a part of.
So what does a ticket to TEDxNavesink 2014 include?
An all-day event of entertaining, stimulating non-fiction theater.

Presentations from 25 thought leaders and entertainers, to explore the productive power of play, giving the "talk of their lives".
AND, new this year:
Reserved seating

Networking lunch

Beverages

Evening reception

Wifi
Program runs 9 a.m. to 5 p.m. Doors open 8 a.m. to 8 p.m. Center Seats are $90, Side seats are $70. Contact us for group and student tickets at [email protected]   
Click here to buy your tickets, but hurry to reserve your seat. Last year's event was a sell-out.
Want to check out last year's first ever TEDxNavesink? You can watch all the talks on our website.
Check out our speakers here. Eek, we can hardly wait!
Don't Miss A Beat - Get our Newsletter!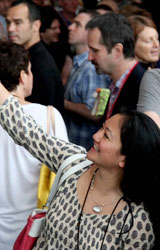 Learn about new TEDxNavesink Events
Discover local change-makers
Get fresh content from our blog
Enter your Name and Email to Subscribe!