Forget Listening to TED Talks. Be Part of the Experience
How do we connect with people? At work, in the neighborhood, at the volunteer organization? Do we open the conversation with our shared interests, with a positive thought to launch us out into our work? Do you? Do I?
Um, no.
I commiserate.
The weather (If I hear the weatherman say snow again, I'm going to throw something at the TV), the kids (all they want to do is play on the computer! I think they have screens for faces). The meeting (Do you believe this agenda? This is why nothing gets done).
It's an easy way to common ground, a shared bitter chuckle, but I know it's never moved me closer to the solution I'm seeking (a deeper friendship, a productive organization).
How ironic that I started my interview with TEDxNavesink speaker and organizer Robyn Stratton-Berkessel – whose career is centered on creating the kind of  climate that organically produces positive change in organizations – with a snarky remark about how much TEDx organizers have to shoulder while running a career and family. What was I thinking?! Well, I wasn't thinking.
I didn't plan to do it in advance. It just came naturally to me. It did give Stratton-Berkessel and I that "I hear you" moment, but it didn't put us on the plan to working together more efficiently or effectively, and it didn't give me any warm fuzzies about our accomplishments, which are tremendous (after all TEDxNavesink 2014 is well on its way to being sold out, again).
It did prove a good foil to hear how her work gets audiences ripe and ready to participate in an experience, a change, rather than idly receiving (and not implementing) someone else's wisdom. As she says it, she is a "designer of experiences and a facilitator for positive change."  Her methodology is Appreciative Inquiry.
I know what you are thinking: cat posters and inspirational photos of yachts knifing across the sea.
But corporations aren't paying her to setup trust falls and team building exercises. "There are real business outcomes of Appreciative Inquiry and it's incredibly satisfying," she said.
Stratton-Berkessel's clients are Fortune 500 companies and organizations that have brought in the best in the world to teach their employees and motivate them to best practices, only to find their people turn back to them and say, "That was very inspiring, but how do we do it?" That rub between inspiring change and facilitating it is where Stratton-Berkessel lives.
Stratton-Berkessel uses Appreciate Inquiry to move the people she works with from audience members to participants and from resistant to engaged. In her work at her company, Positive Matrix, Robyn uses the methodology to foster positive change in corporate settings like strategic planning, change management, product development, to name a few.
If that sounds amorphous to you, think of it as four targeted questions (about what is and what could be) driving a conversation toward one end: positive change.
"From the very first question we ask, positive change begins," Stratton-Berkessel said. "Why not ask what's right, rather than what's wrong? We ask what works, rather than what are the problems to be fixed."
At TEDxNavesink 2014 Stratton-Berkessel will use her methodology to create an experience for attendees where their minds are framed positively, open to receive the most from presentations and to participate rather than watch. She's keeping the specifics of her presentation under wraps, but Stratton-Berkessel did tell me that it will be interactive where audience members get a chance to play around with inquiry and its positive effects.
"When you open up to playful inquiry," she said, "the fear drops away. You feel more courageous and open."
You can read more about Stratton-Berkessel's methods in her book Appreciative Inquiry for Collaborative Solutions: 21 Strength-Based Workshops. Or check out her app, Embracing Change, to try out Appreciative Inquiry yourself.
To experience Robyn Stratton-Berkessel's talk on playful inquiry join us May 10 at Two River Theater in Red Bank at TEDxNavesink 2014: PLAY.  We'll be hosting 24 presenters who harness the positive power of play every day in technology, education, design and more. Limited tickets available for this all-day event, which includes catered lunch, networking opportunities and evening reception.  
Click here to get your ticket.
Don't Miss A Beat - Get our Newsletter!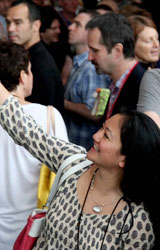 Learn about new TEDxNavesink Events
Discover local change-makers
Get fresh content from our blog
Enter your Name and Email to Subscribe!