Surprises about Surfing in New Jersey
Storm clouds and blustery winds at the Jersey shore, not only draw out rain boots and umbrellas, but surfers to greet the swelling ocean waves.
If you try to think about the most well known places to catch waves across the country, shore towns in New Jersey are probably not the first that come to mind. However, TedxNavesink speaker and surfer for over 50 years, Dr. Bill Rosenblatt, can attest to the significant contributions surfing has made to the Jersey Shore culture.
Not just an avid Jersey Shore surfer, Rosenblatt holds a doctorate from Lehigh University and studied at the Mind Body Medical Institute at Harvard.
Rosenblatt has taken his skills and expertise throughout the world. He was a co-founder of the Jersey Shore chapter of the Surfrider Foundation and served as Chairman of Surfrider's National Board of Directors. Dr. Bill Rosenblatt is a licensed psychologist in Ocean Twp. NJ and, Director of Life Coaching and Clinical Services at Surf House Puerto Rico in Rincon, Puerto Rico.
Surfing has been an integral part of Rosenblatt's life, just as it has been an integral part of the Jersey Shore culture and history. In his TEDxNavesink talk Rosenblatt highlights some of the important, and famous figures in history that have enriched the shore culture, and spread its notoriety and talents worldwide.
Rosenblatt begins with  historians' speculations  on a depiction featured in the Police Gazette from 1888 titled, "Riding the Waves of Asbury Park,", which would make this the first example of surfing in Monmouth County and in the entire  continental United States. And this illustration was just the beginning.
Not only could the first representation of surfing have originated in New Jersey, but the father of modern surfing himself visited the Garden State numerous times to practice his sport. Rosenblatt remarks how Duke Kahanamoku, a Hawaiian competition swimmer and the Michael Phelps of his era, spent significant time training in Atlantic City and the Monmouth County area.   He is also credited with introducing surfing to Australia and Europe during his travels.
Even former Long Branch resident, Bruce Springsteen was "born to surf," and can still be spotted occasionally surfing his favorite beaches on the Jersey Shore. When Springsteen returns to Monmouth County for a visit while he's not on tour, he appreciates that he can blend in with the crowd and just enjoy the waves, said Rosenblatt.
In addition to the notable surfers that have caught waves off the coast of NJ, Rosenblatt also discusses some of the other major contributions the state has made to surf culture. This includes one of the most well known surfing labels, Ron Jon, which was established just outside of LBI. Even the largest amateur surfing association in the world, The Eastern Surfing Association was founded  in Belmar, NJ.
Although most people do not immediately think "New Jersey" when they hear surfing, Rosenblatt proudly tells the world that he is from the Garden State, and he is a surfer.
"I hope as you think about surfing, you'll think about the contributions our state has made to surfing, and the surf culture, and maybe you'll try surfing in NJ," said Rosenblatt.
View Rosenblatt's full talk here.
Join us May 10 at Two River Theater in Red Bank at TEDxNavesink 2014: PLAY to hear more talks like Dr. Bill Rosenblatt's. We're hosting 24 presenters who harness the positive power of play every day in technology, education, design and more. Limited tickets available for this all day event, which includes catered lunch, networking opportunities and evening reception.
Click here to get your ticket.
Bill Rosenblatt, Photo (c) John M. Craig
Don't Miss A Beat - Get our Newsletter!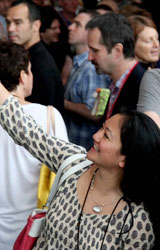 Learn about new TEDxNavesink Events
Discover local change-makers
Get fresh content from our blog
Enter your Name and Email to Subscribe!