Not All Talk
Think TEDx Talks are just all talk? Think again.
Kyle and Taylor, a pair of sweethearts with even sweeter voices, swept the audience off their feet with their stellar musical performance at TEDxNavesink 2013.
The two performed two of their original songs with outstanding voices and soothing guitars.  The songs, titled Jane and Feel Like a Man, are featured originals performed regularly by their band, Ardvark Smile, a local Jersey Shore group.
You can listen to their full performance 
here.
Don't Miss A Beat - Get our Newsletter!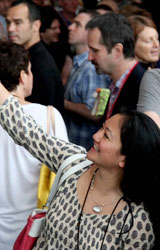 Learn about new TEDxNavesink Events
Discover local change-makers
Get fresh content from our blog
Enter your Name and Email to Subscribe!