TEDxNavesink 2014 is SOLD OUT!
Less than one month until our fiercely anticipated all-day ideas conference, TEDxNavesink organizers are happy (and a little sad) to report that our 2014 event is sold out.
Now in its second year, TEDxNavesink, will open its doors on Saturday, May 10 from 8 a.m. - 5 p.m. at Two River Theater, for a day of non-fiction theater. The event brings together 24 leaders in sports, entertainment, business, innovation, tech, design, healing, science, psychology, community and more, to talk about one thing, from their perspective – the power of PLAY as a positive force.
This year's presenters are mix of local and far flung thinkers, performers and doers as varied as their geography. Here are just a few:
TEDxNavesink isn't a lecture series, it's an experience and it lasts all day. It's a day of thought provoking, mind expanding talks, performances and art, all in a community of smart, forwarding thinking people. See it's not just about what's on stage, it's about connecting with the thinkers in the audience, people like you who want to push their minds past the confines of the commute. This is the network you want to be a part of.
If you missed out on tickets this year, don't fret! Every presentation will be recorded and posted on TEDxNavesink.com.
At the event we will announce next year's date and theme and tickets will be available for the 2015 event on our website.
If you're a ticket holder this year, this is what you can expect.
An all-day event of entertaining, stimulating non-fiction theater before it's shared with a global audience.
Presentations from 24 thought leaders and entertainers, to explore the productive power of play, giving the "talk of their lives".
Art exhibitions from local and national artists.
AND, new this year:
Program runs 9 a.m. to 5 p.m. Doors open 8 a.m. to 8 p.m.
Want to check out last year's first ever TEDxNavesink? You can watch all the talks on our website.
If you're a member of the press or blogger with hundreds or thousands of subscribers, contact [email protected] for information on passes for the day.
Don't Miss A Beat - Get our Newsletter!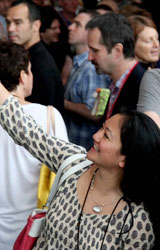 Learn about new TEDxNavesink Events
Discover local change-makers
Get fresh content from our blog
Enter your Name and Email to Subscribe!