Joe Iconis Brings His Witty Musical Style to TEDxNavesink
Writer Joe Iconis is bringing his hairy style to TEDxNavesink. Literally, he says.
"I think I'm hairier than most men. I'm a full-blown Italian and we are a notoriously hairy people, but I think, even in the realm of hairy Italians, I'm up there. So I'm bringing that to TEDxNavesink."
And that's not all he's bringing to the event at Monmouth University on April 11. If the above quote gives you any inkling as to what kind of guy Joe is, then you don't want to miss his appearance.
Joe is funny, witty and has a sense of humor a mile long, and he uses all of these strengths in his writing.
Joe is a writer, performer, and an all around entertainer. He writes predominately musical theater—music, lyrics and books, but he also writes "regular-people songs." When not writing, he performs with his group, Joe Iconis and Family.
"I got involved in this world after seeing Little Shop of Horrors at The Orpheum Theater when I was six years old," he said. "I was immediately hooked on the art of musical theater and threw myself into it head first."
Joe made it down the "terrifying and brambly path" into the world of entertainment, and has done quite well for himself. He is a fixture on the New York City cabaret scene and has been nominated for numerous awards and won many others. His songs appeared on NBC's Smash, his writing has been featured in the New York Times, and he is the author of many musicals. And to top all that off, Joe was named "one to watch" in Billboard's Top 10 picks of next generation Broadway singers and songwriters. Check out his accomplishments here!
Joe's current project is a musical comedy that will be featured at Two River Theater called Be More Chill. It's a classic musical comedy set in a high school in New Jersey. Joe describes it as a "nerd-rock extravaganza about mind control devices in teenagers." (With a description like that, you can't afford to miss it!) Check it out here.
"I think the show feels contemporary, but also traditional," Joe said. "My hope is that it's a piece that older folks who love musicals will be totally thrilled by and that young people who have never seen a musical will be equally enamored with."
Be More Chill looks at serious contemporary issues through the lens of science fiction and of course, comedy. Joe hopes that, even though it's about high school students, all audiences will be able to relate to it.
Joe will perform his musical stylings at TEDxNavesink 2015: Accelerators, and the audience is sure to be entertained by his quirky style. And if you're not convinced yet, just read what he hopes to get out of performing at the event.
"I hope to convince a theater full of people that I am their leader and what I say holds the key to their eternal happiness. I hope these people camp outside my apartment at night and wear t-shirts that bear my likeness and say 'Prophet' on the front. I hope we take over America and then the world and then the universe, just so I can rebrand Earth as "Artist Colony 2000" and then the whole of the cosmos will know that our planet welcomes anyone with a passion in their hearts and a creative idea in their head. Aside from that, I'd be happy with a free lunch."
See, I told you you'd be entertained.
This year's TEDxNavesink isn't Joe's first TEDx appearance. He performed at TEDxBroadway, as well as last year's TEDxNavesink 2014: Play. So it's no wonder that we asked him back again. And Joe's career and passion melds effortlessly with TEDxNavensink's theme, accelerators.
"I think I write about people who don't usually get musicals written about them, and about moments that don't usually get written about," he said. "I write as truthfully as possible and then I work as hard as I can to make sure my writing is performed authentically, passionately, and frequently."
Joe has a voice all his own, and it shines through in his writing and performing, and his acts have shaped the current landscape of musical theater concert culture.
"There are certain elements of my live performance that were specific to my show when I first started doing this and now I see them in tons of shows," he said. "So, that's a place where I can actually point to something and say 'Oh, yeah, I think I influenced the scene a little bit.'"
Joe lives in Manhattan with his wife, Lauren, and their cat, Diane Kitten. (A name we love!) He is passionate about theater, music, and the combination of music and theater; his family, friends, film, food and well-made cocktails; collaboration, loyalty, The Muppets, and neck ties; the art he makes with artists he frequently collaborates with, performing, and New York City.
You can't miss out this opportunity to see Joe live at TEDxNavesink. Hurry, get your tickets here!
Stephanie Eichmeyer is a content production and marketing specialist for the TEDxNavesink team. She is currently pursuing a master's degree in communication from Monmouth University. Stephanie has a bachelor's degree in journalism from the University of Missouri-Columbia and has worked in journalism and PR for many years. 
Don't Miss A Beat - Get our Newsletter!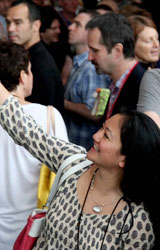 Learn about new TEDxNavesink Events
Discover local change-makers
Get fresh content from our blog
Enter your Name and Email to Subscribe!