TEDxNavesink Exhibit: In Front of You
"In New York City art is everywhere, and we wanted to capture that. In cities like New York, everyone is moving fast. Headphones plug our ears. Sunglasses shade our eyes. Into this fray, we're now glued to our mobiles. As we engage more with the digital world we stop looking. We miss the wonders. I want to reawaken our senses and return wonder to the urban dweller. What began with my desire to capture the spontaneous beauty and creations of New York to capture markers for my own paintings became something more meaningful." Camilla Webster
Camilla Webster is on a mission to highlight the art "in front of us" in New York City. In an exhibit of photos and objects, TEDxNavesink subscribers are invited to decelerate: to experience the city with a fresh perspective. Webster's photos ask us to stop and attend; to engage in the practice of seeing by looking up, down, around, and "in front of us."
Sometimes Webster's photos of a NYC scene remind us of an impressionist painting such as Wedding on the A Train or Winter's Eve by The Metropolitan. Other times she has photographed street art like the works around the remains of 5Pointz in Long Island City and Kobra's Kiss by The High Line. Her work offers whimsy along the sidewalks in Williamsburg like an American Flag made of car doors along a building's wall and there are reminders of a community's survival in American Dolls House; a photograph she took in the days after Superstorm Sandy hit the Rockaways. In other pieces, Webster captures the iconic landscape and architecture city dwellers often miss on fast paced commutes to work and play.
Webster has invited artist Karsten Steiger to contribute his large format cityscapes from his project New York Love Story. New York Love Story evolved out of Steiger's desire to approach New York from spectacular heights. His journey is to create a definitive collection of high-resolution photographic landscapes of New York City.
In 2014, Webster launched her video series ArtBeat for New York Natives discovering painted water towers with The Water Tank Project, the history of the encaustic tiles and Angel of the Waters fountain in Central Park and the sculptures embedded into the subway below The Natural History Museum.
In a series of oils on canvas in the exhibit called "Calm Down, Matters of the Spirit," Webster creates a painting series that invites viewers to meditate. "I wanted people in New York City to have one of these big pieces on their wall to attend, breathe and just be." Inspired by Turner and Whistler and the "spirit junkie" culture in NYC, she created abstract landscapes of the mind. In the frenetic world of digital journalism in New York City, Webster wanted to engage audiences in work that offered transcendence, a place to look and be mesmerized, a slice of heaven.
"When I paint, everything becomes technicolor. You can see that in my recent work Why Wasn't Jesus a Woman? (Conflict in the Middle East) , Duke's Bar Martini No 2, (What the second drink looks like) Tough Job, (A commentary on immigrant labor forces and what binds them together ) Pencil Wars (An ode to the innocence of the artists in JeSuisCharlie), #SaveDarwin (An empty island in the Galapagos), Sub Rosa.(The loneliness of the mysterious socialite) I will always be a storyteller, always a curious investigator of the obvious. New York—this world—is a really fascinating place we just zoom past it, take it for granted. I want my work to change that. I hope it asks you to stop, to decelerate, to look hard and then speed up again, bringing lessons and experiences at a pace into your own life. I also seek and show a desire for a lost innocence through color. That's how I see New York in photos. Normal every day things become quite magical."
"I have been a journalist for over 20 years in TV and digital journalism and part of a revolution that generated information at an epic pace around the world. I process a past full of four TV monitors at my desk, seven above my head, two computer screens, two work phones, monitoring 26 stories, readying three pieces for air or publication, following social media zooming down my devices on all of it. After 20 years of revolutions, presidential campaigns and surprises, 9-11, Iraq, the Wall Street boom and crash, hurricanes, multimillion dollar art auctions, all at such speed. I was part of the first Tweetup briefing at the White House. Just a few clicks and hundreds of conversations were being generated live as we listened and asked questions on the job market. I wanted the world to calm down. I want time back, time to look, time to make decisions uninterrupted. It was a great physical meditation for me to paint theses works. I hope they offer pause and contemplation to you too."
Don't Miss A Beat - Get our Newsletter!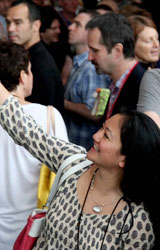 Learn about new TEDxNavesink Events
Discover local change-makers
Get fresh content from our blog
Enter your Name and Email to Subscribe!