Karyn Marshall Sets the Bar High
"World's Strongest Woman" and "World Champion" are just a couple of the titles Dr. Karyn Marshall has earned over the years as a competitive weightlifter. But back when she started lifting, women's competitive weightlifting was unheard of. Weightlifting competitions existed for men only and women were prohibited from competing against men.
This did not stop Karyn from pursuing her passion and she lifted in men's weightlifting competitions, even though she was unable to earn any titles.  A "pioneer" of women's weightlifting, Dr. Karyn Marshall's dedication to the sport helped other women compete in Olympic weightlifting during a time when the sport for women was rare.
In 1985, Karyn became the first woman to lift 300 pounds over her head. Imagine trying to lift a football lineman over your head—this was about the same amount of weight Karyn lifted. Karyn has lifted competitively since she started weightlifting in the late 1970s.
Today, Karyn runs her own chiropractic practice and is a motivational speaker.
Karyn will be speaking at TEDxNavesink 2015: Accelerators. Her talk, "Shattering Records and Glass Ceilings," will explore her role in turning women's weightlifting into an Olympic event. She will also discuss how the advancement in women's sports has stalled and how women's progress in athletics can be accelerated once again.
Throughout her life, Karyn has always been interested in sports and being healthy. But it wasn't until after college while she was working as a Wall Street data analyst that she became interested in weightlifting. Encouraged by friends to start lifting, she was hesitant, but decided to give it a try. She ended up loving it. When she began weightlifting, there were no formally recognized competitions for women.
This didn't stop Karyn from lifting in her first competition, the Empire State Games (ESG). She was the winner of her weight class, but was not recognized as the winner since the ESGs did not allow women and men to compete against each other. Karyn didn't let this discourage her. She was happy with her results and continued training for future competitions.
For a few years, Karyn competed against men. It wasn't until 1980, when the first women's nationals were sanctioned, that she was able to formally compete against other women. From that point on, Karyn gained many athletic achievements. She has set over 60 world and American records. In addition to these records, she has earned many other accomplishments, like winning five gold medals in five world championships and being cited in the Guinness Book of World Records as the first women in the world to lift 300 pounds over her head.
Currently, Karyn works at her practice, Champion Chiropractic in Shrewsbury, where she specializes in treating athletes. She has gained a level of understanding for her patients, which can only come from years of being a competitive athlete. When she's not working at her practice, Karyn is a weightlifting coach and CrossFit Trainer. In 2011, at the age of 55, she placed sixth worldwide in the CrossFit Games' masters division.
Shortly after the CrossFit Games, Karyn was diagnosed with breast cancer. But this didn't stop her from doing what she loves. Throughout her illness, Karyn continued to be active and workout. Thankfully, Karyn is now a three-year survivor of breast cancer.
Karyn focuses on being a chiropractor, weightlifting coach, and CrossFit trainer, but she is also a motivational speaker. She speaks across the country on topics from relaxation to childhood obesity.
Her next talk will be at TEDxNavesink 2015: Accelerators on April 11 at Monmouth University. If you want to hear more about her journey as one of the "pioneers" of women's weightlifting and learn about her model to progress women's sports, buy a ticket for TEDxNavesink today!
Audrey Ardine graduated from Douglass Residential College at Rutgers University in May with a Bachelor's Degree in English. She is currently working for a trade association in Monmouth County. She resides in Red Bank and has lived there for most of her life.
Don't Miss A Beat - Get our Newsletter!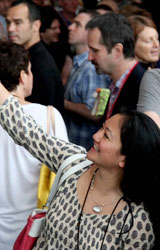 Learn about new TEDxNavesink Events
Discover local change-makers
Get fresh content from our blog
Enter your Name and Email to Subscribe!