TEDxNavesink Draws Change-Makers to Monmouth U (Jersey Moms Blog)
Raise your hand if you've ever been in the audience of someone with something compelling to say.  (Put your hand down if you're thinking of your last Springsteen concert.) Ok, yes, Bruce is compelling – but we're talking your coach, your colleague, your professor, your parent – who says something so enlightening that you literally hear a rusty lever in your over-loaded noggin flip from off to on.
Read full story on Jersey Moms Blog
Don't Miss A Beat - Get our Newsletter!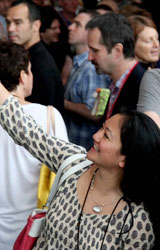 Learn about new TEDxNavesink Events
Discover local change-makers
Get fresh content from our blog
Enter your Name and Email to Subscribe!