Feminism Isn't Dead, It's Gone Viral
Modern day feminist, Kat Lazo believes that "Online feminism is the future of feminism." On September 20th at the TEDxNavesink event at Brookdale Performing Arts Center, she's prepared to share the success of how modern day feminists are using the Internet's massive reach to end gender inequality.
23 year old, Kat Lazo grew up in a South American household rich in culture but also heavily drenched in machismo.
As a teenager she spent a majority of her time online venting her frustrations about the injustices between genders. Here, she discovered other individuals who not only felt as she did but who were actively working to fix the problem.
"The Internet has allowed feminism to be accessible to everyone. Even to the young girl who saw the injustices in her own family and in the world."
Kat is now an active contributor of the online feminist community and makes pro-feminist YouTube videos under the name TheeKatsMeoww.
"Feminism has transitioned onto the online hemisphere, transforming feminism, as we know it today."
She credits the Net accessibility for learning about feminism, and in turn finding strength in her own voice.
"The feminist fight isn't only in the physical world but instead has seeped onto the Net and has gone viral!"
At TEDxNavesink, Kat will bring her special brand of video-journalism to interview the audience and present her findings in the afternoon wrap up. Kat will be joined by great talks from Gabriella Levine, Erika Casriel, Elizabeth Urbanski, Cindy ZIpf, a live performance by guitarist Kaki King, and twenty others. Purchase tickets.
Don't Miss A Beat - Get our Newsletter!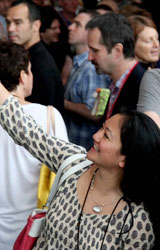 Learn about new TEDxNavesink Events
Discover local change-makers
Get fresh content from our blog
Enter your Name and Email to Subscribe!